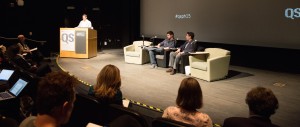 From the Quantified Self Public Health Symposium
How does data flow out of a specific device or app? Can we get a copy? Can we combine it with other data? The difficulty of moving and combining personal data has given rise to an entirely new layer in the health data ecosystem: the QS aggregator. Right now, most of these aggregators are focused on helping healthcare organizations and researchers combine data from various systems, but many questions remain about who controls these data flows and what purposes they can serve. In this short talk Drew Schiller the co-founder and CTO of Validic, a digital health data platform with many enterprise customers, talks about how personal data can be more accessible and useful to the individuals who collect it.
Watch Drew's talk on Medium.