Access your data from HealthKit in a table so you can explore it using Numbers, Excel, R, or any other CSV compatible tool. Download it here.
QS Access is designed to give you a simply-formatted table so that you can make health, fitness, and other discoveries by exploring your own data. When you open QS Access you will see a list of all the types of data potentially collected by HealthKit. You can choose as many items as you like from this list.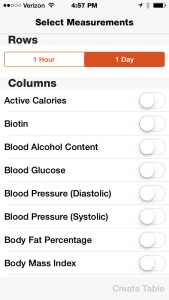 Select "Create Table" from the bottom right corner of your screen.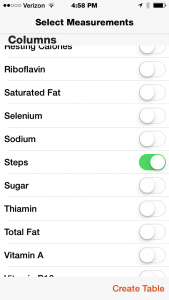 The first time you select any data type for review using QS Access, you will be asked by iOS to give permission for QS Access to read your data. After you grant permission, QS Access will produce a table: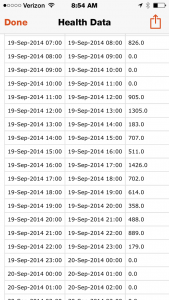 You can view the table directly on your iOS device, print it, send it to yourself via email or text message.
Hourly/Daily
Each time you create a table, you can chose to work with either hourly or daily values. QS Access does some processing to HealthKit data so that it can be accessed in convenient "chunks" for analysis. These won't be appropriate for all uses, but many interesting questions can be asked of data that is presented as a time series using hourly and/or daily values.
QS Labs
The mission of QS Labs is to inspire meaningful discoveries about ourselves and our communities, grounded in accurate observation, and enlivened by a spirit of friendship.
Since 2008, we've been organizing "QS Show&Tell" events where people share their self-tracking projects, working with a loosely affiliated network of over 100 independent Quantified Self groups around the world, and maintaing a Quantified Self website and QS forum.
If you use QS Access to learn something about yourself, we hope you'll consider sharing your discoveries by coming to a QS event. Some ways to participate include:
Join a QS Meetup (scroll down the linked page to find your city)
Start a QS Meetup
Come to the QS15 Global Conference and Exposition
Examples
When your data is in tabular format, there are lots of things you can try. Some are simple, and some are quite complex. For inspiration, here are a few examples from talks given at Quantified Self events of self-tracking projects featuring the analysis of tabular data using common tools.
Kouris Kalligas: Analyzing My Weight and Sleep
"You'll find it surprising that to decrease my weight I had to slightly increase my calories during the day."
http://quantifiedself.com/2014/09/kouris-kalligas-analyzing-weight-sleep/
Adrienne Andrew Slaughter on Tracking Carbs and Exercise
"I recently experienced extreme fatigue while riding my bike in downtown Seattle. A few days before I had changed my diet, eating all vegetables, lean chicken, seafood, and nuts, on the guidance of my doctor. Three days into this I was feeling terrible."
http://quantifiedself.com/2014/06/adrienne-andrew-slaughter-going-carbless-seattle/
Paul La Fontaine: 'We Never Fight On Wednesdays'
"In 1991 I was a soldier in combat, and I was very alert but felt quite calm. In 2006 I was in Istanbul in a negotiation; one comment was made and I felt physical panic. So I was interested in how I reacted to situations because there didn't seem to be any logic to it at all. So I devised a study to see how I reacted… What I found was the the vast amount of my stress came from me anticipating a disaster scenario in my future, which was not at all what I expected."
Feedback and Support
You can download the QS Access App on iTunes.
Please share your feedback with us by emailing qsaccess@quantifiedself.com.
We've created a QS Access Questions thread on the QS Forum. We'll keep an eye out for your questions there.