The 2014 Quantified Self Europe Conference Roundup
May 21, 2014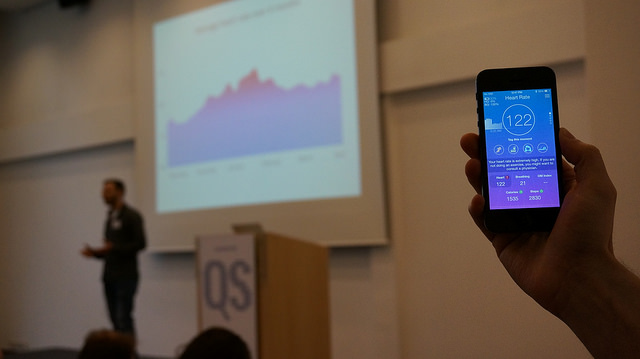 On May 10-11th we hosted the 2014 Quantified Self Europe Conference. Hundreds of self-trackers, toolmakers, scientists, and enthusiasts came together to share, learn, and discuss how we can create personal meaning through personal data. The conference featured over 100 different sessions that included Show&Tell talks, Breakouts on a wide variety of topics, and inspirational and thought-provoking plenaries.
We're currently processing all the videos from the conference and will be posting those soon. Here are some of the web posts and pictures attendees have published documenting their QS Europe experiences.
Posts
Keeping Your Quantified Self on the Right Track by Ian Forrester
QS Community Keeps Inspiring One Another by Martijn de Groot
Wrap-up of the QS Conference 2014 in Amsterdam by Yago Veith
Quantified Self EU Conference by Paul LaFontaine
QS Europe Conference 2014 by Jakob Eg Larson
#QSEU14 Amsterdam Recap by Kitty Ireland
Quantified Self and Philosophy at #QSEU14 by Kitty Ireland
Quantified Self Amsterdam 2014 Storify by Laurie Frick
Ten Things I Learned at the 2014 Quantified Self Europe Conference by Bob Troia
Quantified Self Conference Europe 2014 by Danielle Roberts
Photos:
Attendees have been posting their photos of the conference to the 2014 Quantified Self Europe Flickr Group.
If you've written an post about your conference experience or have photos you'd like to share please get in touch.
Thank you to everyone who participated, volunteered, spoke, shared, and made our conference an experience to remember. It went by too quickly, and we can't wait to see you all again!