February 1, 2008
All of kinds of monitoring technology that may be undesirable when used by others can be useful when turned on ourselves for ourselves. Here is a prototype device currently being developed at Stanford that can be used to monitor behavior types. The researchers are using them for science projects, and as an aid for those testing out how users actually use other products. 
I can imagine life-loggers using similar technology — when it is reduced to almost nothing in size and weight — to capture more dimensions of their lives than simple gps location information will provide. The "logs" below are from a elderly person whose daily activities are of concern to her doctors.

The devices are being developed by Mik Lamming at FireFly Labs.
Firefly Labs is developing a system of hardware and software to automatically sense and gather human activity data.  Fireflies are small (64 x 36 x 18 mm) battery powered wireless sensors, explicitly designed from the ground up for behavioral sensing applications.  A set of Fireflies can be deployed in a few minutes.  They can be put in a pocket, attached to things, or put in places.

The data they collaborate to produce can be used in real-time to spot situations of interest, or concern, or compiled into a human understandable biography. Compared with manual techniques, our sensing system can gather more consistent data, over longer periods (24×7), without interruption or intervention, resulting in higher quality data and lower total cost.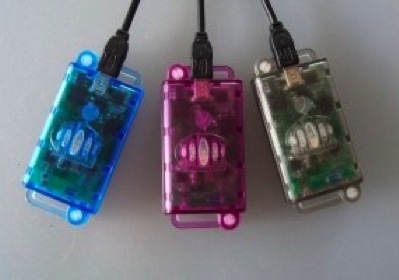 Some of the specs:
The accelerometer and magnetometer data can be used for various purposes such as calculating orientation, monitoring motion such as walking, etc. Radio signal strength can be used to estimate the distance to other firefly devices (firefly devices transmit their identities to each other)
.