Talking QS for Kids with Sesame Workshop!
March 31, 2014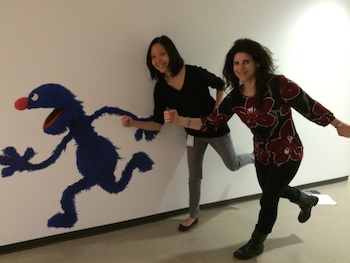 Sesame Street has been teaching kids to count since 1969. It was a big part of my childhood and I always loved it. After all, children get measured a lot: weighed, evaluated, tested. If we adults sometimes wonder how the powerful techniques of quantification can be used for our own benefit, rather than merely serving to strengthen control by others, imagine what it looks like to a kid still learning the basic language of numbers.
Can QS be useful for kids? When we learned that Jennifer Kotler and June Lee, two excellent researchers from Sesame Workshop were planning to be with us in Amsterdam in May at the QS Europe conference, we decided to do a short interview and ask them our question outright.
What is your interest in Quantified Self for young kids?

Jennifer Kotler: What I think is really interesting about the QS movement is that you see data as both an input and an output. Originally I had been thinking about measuring behavior, so we could better understand children's lives. How do kids use media? Who is around them? That's akin to ethnographic studies. But when I listened to people talk about quantifying themselves, I realized that data is also a kind of content that informs the self. Kids like to know how they are doing and what they are learning, that feedback is connected to self-regulation. So we are now thinking of Quantified Self data as both an input and an output.

What's the difference between the way typical media companies might research their viewers and what Sesame Workshop does with kids?

Jennifer Kotler: Our primary mission is to help all children reach their highest potential. We want to help them learn. So we use media as a tool to support child development. We don't see our media as entertainment only.

When do kids start to care about numbers?

Jennifer Kotler: Even infants have some awareness of mathematical concepts but it is around the preschool age when children are taught about the meaning of numbers more formally. The more socially or emotionally meaningful numbers are in relation to individual children, the more they can learn.

What's the most interesting research that involves young kids with data?

Jennifer Kotler: There are some small scale ethnographic studies, using a GoPro camera and interviews, but those happen with older children. As Sir Ken Robinson said, a three year old is not "half a six year old." You can't take experiences from older kids and just make it easier. You have to ask what is appropriate for kids of that age. We're coming to the conference to learn about techniques we can use in our research, but also we are also coming in with an open mind and looking forward to absorbing it all!

The Sesame workshop creates media. So what if the results of your research is: kids should have minimal screen time? Could you handle that research result?

June Lee: The big goal of the research we do is not to get people to consume more media, but to improve the media we do make so that people learn more, engage more, and improve their lives.
We can't wait to see June and Jennifer at our 2014 European Conference in Amsterdam. If you're interested in combining QS practices with child development and education make sure you register today. We're only one month away!