Make Your Own Mobile Self Tracker with Google Docs
May 13, 2009
Today we're going to learn how to build your own multi-purpose mobile self-tracking application. The origin of this simple tracking method lies in the second QS Show&Tell when I outlined my dream self-tracking system and expressed a wish that somebody would build it. Among other things, I wanted an easy way to capture any kind of simple self-tracking data on my phone and automatically upload into a spreadsheet, where it could be easily graphed. Somebody mentioned that this could be done using Google docs. At first it struck me as too complicated. But it wasn't. Here's how it's done.
First, open Google docs, go to the "New" menu in the upper left corner and select "Spreadsheet." In the spreadsheet, name your columns with the types of things you are tracking: for this example I've used weight, alcohol, and systolic and diastolic blood pressure. You do not have to name a separate column for date or time. That will be automatically added by Google.

Now that you have your spreadsheet, go to the "Form" menu and choose "Create form." A form will immediately appear. You can name it, as I did, "all about me." Here is what you will see: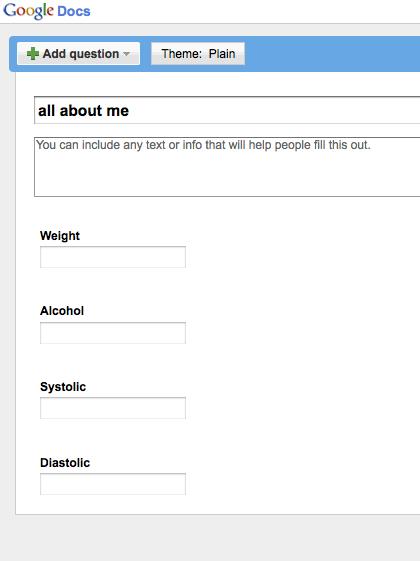 Now that you have made your form, go to the Form menu and select "Go to live form." You will see the form as a web page. Enter some sample data. After you click submit and return to the Google spreadsheet page, you will see that the data has been entered into your spreadsheet, and given a time stamp.
Now it is time to start entering data on your mobile phone. Go back to the "Form" menu, select "Send form" and email it to yourself. Open the link with the Web browser of your mobile phone. Now you are connected to a Web page that will accept self-tracking data and automatically place it on your spreadsheet. Here is an example of how the form looks on my iPhone.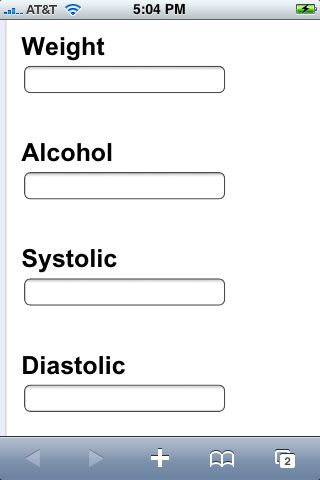 Add a shortcut to this page, if you can, in a convenient place, such as your phone's home screen. (On the iPhone, you can click the + sign at the bottom of the browser window and select "Add to Home Screen")
You are done. Now you can transmit your data from a simple form on your mobile to a spreadsheet, where it is automatically time-stamped, and awaits your charting and analysis.
In a future entry I'll show some simple ways to extend these methods.