iBrain tracks sleep – to what end?
February 2, 2009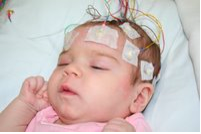 QS Show&Tell regular David Duncan, author of the upcoming Experimental Man, blogged last week about his experience with the iBrain, a single electrode brain wave monitor under development by Philip Low, a neuroscientist and founder of Neurovigil, a startup that is commercializing his single electrode device for clinical and home use. The picture at left is a standard EEG set-up, shown here on a hospitalized child with Aicardi syndrome. Other EEG set-ups involve a cap or helmet. There are many uses for a simpler and more informative EEG. (The value, obviously, is not in sticking a single electrode to the scalp, but in understanding the data – this is the area of Low's reseach and Neurovigil's patents.)
Duncan does not learn very much from his experience with the iBrain – his sleep patters are typical. But self-quantifiers will immediately recognize the interest such a device holds, not just for comparing an individual's sleep to a "typical" sleep pattern based on data from many users, but for correlating one's own sleep with other data generated by other self-monitoring systems and devices. Sleep is known to correlate with learning, mood, respiratory and cardiac health, and many other measurable dimensions of life. A simple, single electrode system for measuring EEG at home would be add a tremendous data source; while, of course, deeply taxing our analytical skills and hypothesis-generating creativity.