July 2, 2012
Welcome to the July QS Newsletter!
Inside you'll find photos, upcoming events, and other QS goodness including an interview with our awesome Seattle QS meetup organizer, David Reeves. We hope this helps you better understand what's going on in the QS universe!
{Alex & Ernesto}
July QS Meetups
July 4 – Munich QS Show&Tell meetup at Combinat 56
July 7 – Berlin QS Show&Tell meetup at c-base Raumstation
July 10 – First Milan QS Show&Tell meetup at The Hub Milano
July 10 – Dublin QS Show&Tell meetup at Science Gallery, Trinity College Dublin
July 11 – Toronto QS Show&Tell meetup at Network Orange
July 12 – London QS Show&Tell meetup at Google
July 18 – Philadelphia QS Show&Tell meetup at Center City Philadelphia
July 23 – Sydney QS Show&Tell meetup Teleconference
July 24 – New York QS Show&Tell meetup at Tisch ITP/NYU
July 25 – Pittsburgh QS Show&Tell meetup at Carnegie Mellon University
July 31 – Seattle QS Show&Tell meetup at Institute for Systems Biology
More to be scheduled! Be sure to check out the QS global google calendar to keep up to date.
QS in Pictures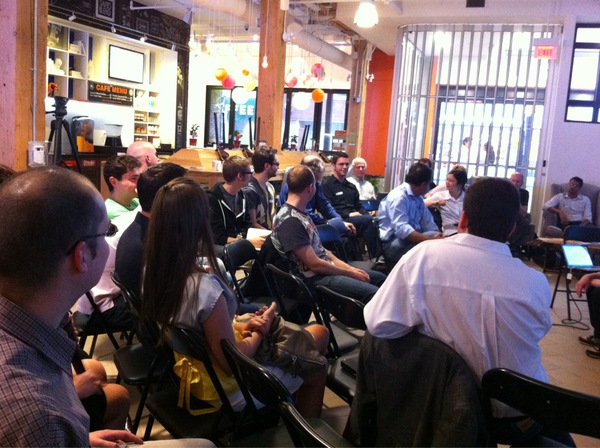 Paris QS Meetup at Greenspace
Silicon Valley QS Meetup at Stanford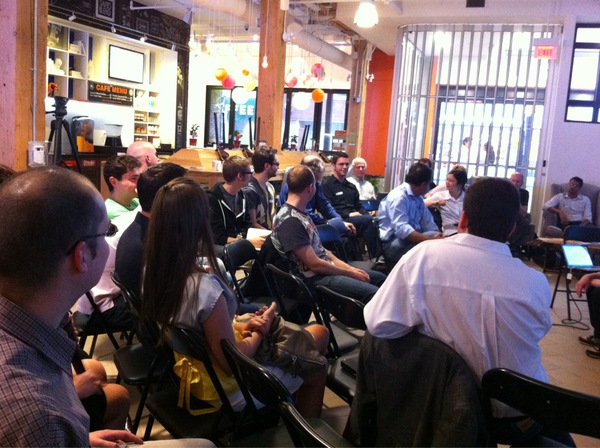 Toronto QS Meetup At Network Orange
Meet an Organizer: David Reeves – Seattle QS
David works at a startup called Limeade where they are trying to help employees and health plan participants improve their health and well-being through a combination of improved self-awareness and social behavior change. Prior to that, David worked on a product that's now part of Intuit, called QuickBase.
What prompted you to start a QS meetup in Seattle?
I had been interested in self-tracking and its impact on behavior change for some time; at some point in 2008, a visit to San Francisco coincided with one of the early Bay Area QS meetups organized by Gary Wolf and Kevin Kelly. I went to another one the following summer, at which point Gary and I started talking about starting a Seattle chapter. With some support and encouragement from Gary and Alexandra Carmichael, the Seattle meetup was born.
What is your community like?
We've been pretty lucky to attract a lot of great people with a pretty wide range of interests and backgrounds. We've had great participation from startup and established companies in Seattle working on different aspects of behavior change, from Habit Labs, Limeade, RescueTime and Alere/Free & Clear; some fantastic presentations on research projects at the University of Washington and the Institute for Systems Biology; as well as increasing interest from the medical community.
Have you been to any other QS meetups?
My only point of comparison is having attended 3-4 meetups in the Bay Area, as well as the QS conference. I'd say the general format is the same, but our smaller size enables a fair bit more Q+A and discussion than a larger group allows.
What are your goals for your group?
Mostly, to create a forum that continues to attract people at the top of a variety of different and interrelated fields. To do that, it's going to have to create a discussion that people won't find anywhere else — that combines the best of traditional science with less structured but equally interesting self-experimentation. Do that, and who knows what kinds of ideas, products or innovations can result?
What has really inspired you so far?
Where to start? I loved Mark Drangsholt's talk about his self-experiments to improve his tachycardia (an abnormally accelerated heartbeat) — especially because he went from his own experiments to really starting to wrestle with the implications of a study with a sample size of 1, and how they might or might not be accepted by the medical community. Buster Benson's whole history of self-tracking, and his experiments along the way.
Any tips or lessons learned you want to share with the community?
We struggled early on to find the right cadence for meetings. To some extent that was a function of busy lives and the time we had available; but finding a good location was also a challenge. It really helps to be able to nail down one space you can come back to, and branch out from there.
Find other leaders within your community. Gustavo Glusman has really run with the QS idea, promoted it within his organization, and is helping take Seattle QS in a new and fascinating direction.
You're Invited!
We want to hear from you so send in pictures from your meetups, tell us cool things about your group, or write an update for the blog. We welcome all your contributions so don't be afraid to reach out!