June 3, 2012
Welcome to the June QS Newsletter!
Below you'll find photos, videos, and all sorts of QS goodness including a wonderful article by Adam Butterfield. We hope this helps you better understand what's going on in the QS universe!
{Alex & Ernesto}
June QS Meetups
6/2 – Chicago QS meetup at Healthcare Bootcamp
6/7 – Toronto QS meetup @ Network Orange
6/9 – London QS Self-Hacking day at Hub Westminster
6/11 – Geneva QS meetup at Quality of Life Lab
6/13 – Seattle QS meetup at Founders Co-op
6/14 – First Copenhagen QS meetup at Dansk Design Center
6/19 – Silicon Valley QS meetup at Medicine X
6/21 – Los Angeles QS meetup at Factual
6/21 – Vancouver QS meetup at iQMetrix
6/27 – Bay Area/Berkeley QS meetup at Berkeley Skydeck
More to be scheduled! Be sure to check out the QS global google calendar to keep up to date.
Welcome to our new QS Meetups!
Italy – Quantified Self Milan
Denmark – Quantified Self Copenhagen
New York – Quantified Self – Albany
Dubai – The Dubai Quantified Self Meetup Group
QS in Pictures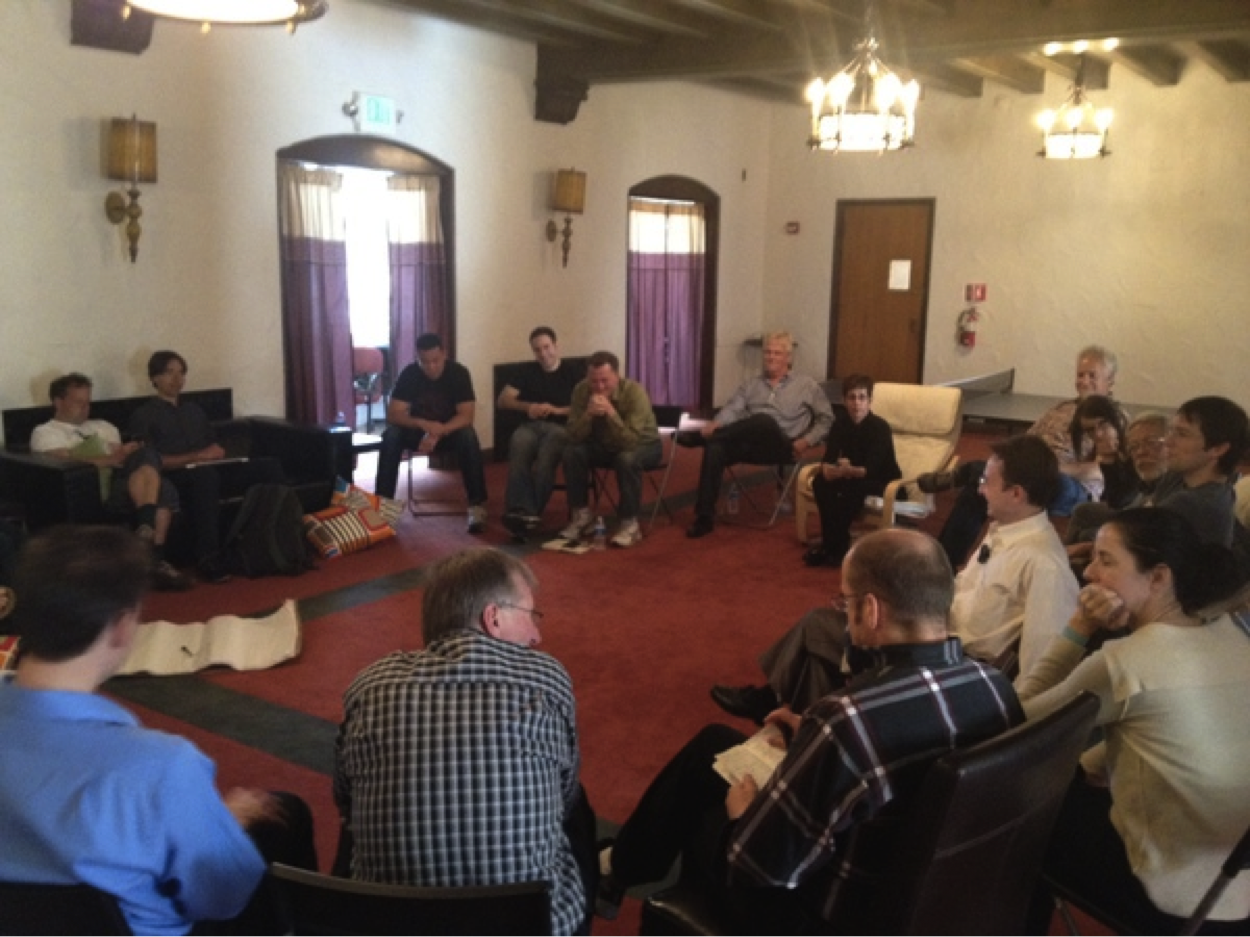 QS Discussion Group at Singularity University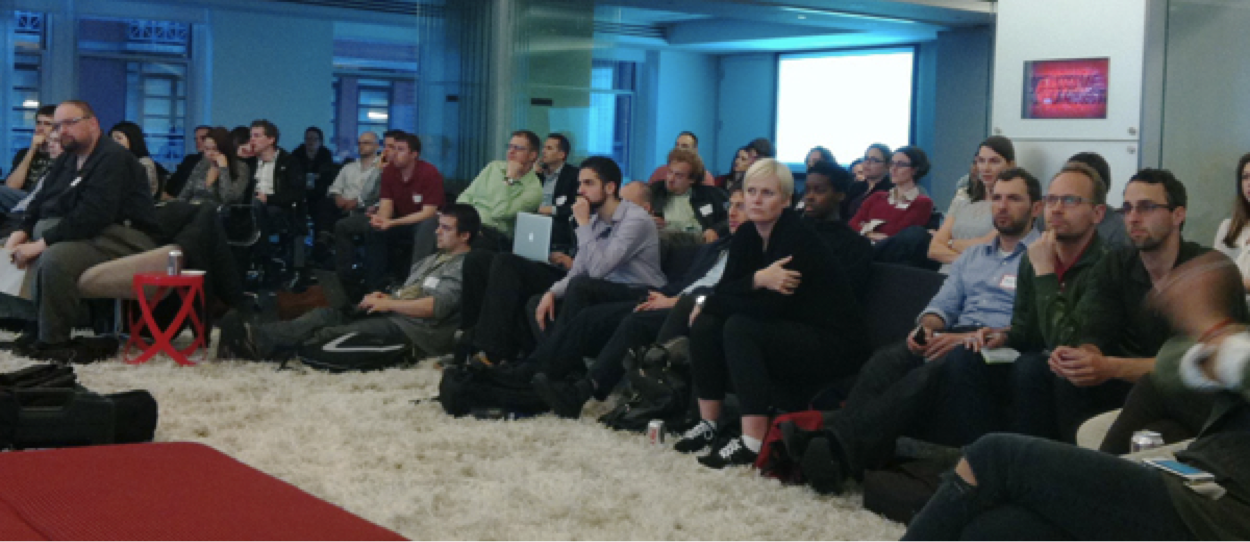 New York QS Meetup at Digitas
Portland QS Meetup at Wieden Kennedy
"What is QS?" An Anthropologist's Answer
by Adam Butterfield
As many of you may know, I am an anthropologist and I conducted the research for my master's degree on QS Meetup groups. During the year I spent doing fieldwork and writing papers, I was asked countless times the question, "so what is your research about?" I've had plenty of practice refining the story, and now the full version takes only 30 minutes. In order to understand anything about my research you need to know about Quantified Self, self-tracking, and meetups (everyone I talk to outside of QS has no knowledge of any of these). In my attempts at making a "short version," I came up with short definitions for each of these terms. For the rest of this article, I'll talk about how I explain to people what Quantified Self is, and how that might provide some insights for organizing meetups.
If someone were to ask me, "what is Quantified Self?" I would say, "Quantified Self consists of two things: a blog and a meetup." In the most simple terms possible, that is what Quantified Self is (and I guess the conferences too). The content of QS is a different question. The content of QS is, personal stories of self-tracking projects. Then of course I have to give my definition of self-tracking, which is: the practice of monitoring and collecting information or data about some aspect of one's life. This definition is intentionally broad, because the range of different things people are doing with self-tracking is immense. Finally we have my definition of a meetup, which is: a group of people that come together to socialize around a common interest. For Quantified Self the common interest is of course, self-tracking.
Even after presenting those definitions, it still doesn't say much about what Quantified Self is. The best way I have found to explain to people what Quantified Self is, is by starting with the beginning of the whole thing, and explaining the idea behind QS. In the first conversation I had with Gary Wolf, he said that he and Kevin Kelly had both been interested in the personal and social meanings of technology for quite some time. From the beginning, the intended focus of QS was on how people are using new technologies, how they are incorporating them into their lives, and the changes that occur. Rather than being about the technology in itself (the fact that there are new devices that do new things), they were interested in what it means when people use the technology. When they started the meetup, they created a venue where people could share personal projects about the application of technology. They found it fascinating to hear about technology from the perspective of a personal narrative, so much different from people just talking about technology, stating opinions, or making predictions. The narratives illustrated engagement with an emergent future, through personal stories of technology in use.
With this initial set-up, we can then make contrasts between what QS started as and what it is becoming, and also between what different people are doing with different groups. I think what QS is becoming looks different depending on your position and engagement both with QS as an organization, and with self-tracking as a practice. People often refer to QS as a "movement," but I prefer to call QS a "phenomenon." The term movement (at least to me) implies that there is some cohesion or solidarity, and a definite direction and motivation behind whatever it is you're calling a movement. However with QS, the diversity of interests, opinions, and reasons why people are drawn in is vast. I think the diversity of ideas is one of the most interesting things about QS. But the diversity tends to get overshadowed by the most catchy aspect–the new devices!
Now you might be asking, "what does all of this have to do with organizing a QS Meetup?" My suggestion to meetup organizers is to find ways to sample the diversity of your local group. The folks here in the Bay Area have set up a model for the meetups, as QS show & tells. But they have also left QS open for individual organizers to do what they want with it. Because of the large membership, the Bay Area QS Meetup has been great at bringing in a wide array of different kind of people and projects through the show & tells. What sampling the diversity of interests looks like in other areas may be different.
You have to ask yourself the question, "Do I want to organize a meetup about self-tracking under the heading of Quantified Self?" If the answer is yes, the next thing to do is figure out your own motivation behind starting the meetup. Is it the same as Gary and Kevin had? Or is it something different? If it's something different, that's great! You are bringing something to that awesome diversity I'm mentioning. I think a good way to figure out what you want to do, is take the Three Prime Questions, and reframe them into the present tense (at least the first two). In organizing your meetup, what exactly are you doing? How exactly are you doing it (through show & tells or something else)? For the third question in this case, I think it goes beyond "What are you learning?" although that might be part of it. As what QS is becoming looks different form different perspectives, I also think people will arrive at different ends depending on their interests and engagement with the emergent future of Quantified Self.
You're Invited!
We want to hear from you so send in pictures from your meetups, tell us cool things about your group, or write an update for the blog. We welcome all your contributions so don't be afraid to reach out!