New York QS Show&Tell #13 Recap
September 25, 2011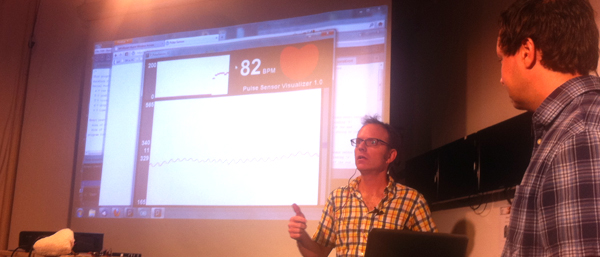 Last month 75 QSers attended the New York Show&Tell #13 that was held on Wednesday, August 24th at NYU ITP, one of our regular sponsors in New York. Thank you to my co-organizer, Brian Gallegos, who helped pull together this recap for the blog.
Ari Meisel
Ari cured himself of Crohn's disease by experimenting with some unusual supplements, nutrition and fitness regimens and tracked every bit of it.
Four years ago, Ari was diagnosed with Crohn's disease. After a couple of years of intense pain, sixteen pills a day, and yet another visit to the hospital, he decided to take control of his pain. So, he started to track everything. His tracking regimen included exercise, supplements, sleep, food, etc. He used some popular tracking tools such as the FitBit, Zeo, and 23andMe. He correlated these metrics with how much pain he was in and his mood. The difficult part was trying to quantify the psychological component.
Ari learned to control the pain from Crohn's, it took a certain combination of food, supplements, exercise and sleep but the key was collecting enough data through experimentation. The other key learning from Ari's work was that sharing the data is very important. Sharing included his friends, family, doctor, and others with Crohn's. This sharing of data helped him analyze the data better and made him feel better about the task. Watch Ari's talk.
Marie Dupuch
Marie has fairly popular issue that many deal with everyday but she decided that it was important enough to start analyzing and understanding it better. The issue is mood and her solution was to track her mood three times a day. She created a scaling system from 1 – 5 with 1 being extremely low and 5 being extremely high.
Although she started with post-it notes, Marie created an iPhone app so she could track her mood on the go and started to notice patterns in her life that greatly contributed to her mood.
Marie learned that the best way to analyze her mood data was through visual representation. Her iPhone app gives her a visual way to understand her mood patterns in a quick way and enables her to correlate different mood data points on the fly. Her goal is to continue tracking her mood for self experimentation and share her application with others. Watch Marie's talk.
Roger Craig
Roger Craig is a Jeopardy champion. But he's not *just* a Jeopardy champion. He's the record holder for the most money won in a single game in the history of the show.
But Roger isn't some savant with perfect quiz show memory. Instead, he set out to find a way to look at the show from a historical perspective and try to understand what types of questions are asked, at what frequency, and for what value. He started by taking a database of all of the questions ever asked in the history of the game and creating a taxonomy to label the question types. He then mapped out the question types, values, and frequency on a plot and identified the highest value question types. Next, Roger built an application that gave him actual questions based on his desired type and value along with a timer to train himself to answer questions in a quicker fashion.
Roger learned that it's more important to ask the right questions of your data than it is to just have the right data. Watch Roger's talk.
Yury Gitman and Joel Murphy
We were thrilled to have Yury and Joel come out and demo their open hardware project called Pulse Sensor with the local QS community. The project tagline is "heart rate beats per minute for Arduino, lickety split." and QS contributed to helping them reach the goal of raising $3,000 on Kickstarter. Read the QS post on Pulse Sensor. Watch Yury & Joel's talk.
Tereza Nemessanyi
Already a successful businesswoman, Tereza had a couple big events in her life that resulted in major life changes. The biggest of these changes was the loss of a family member that was a primary support mechanism and life confidant. She didn't know where to turn for advice going forward and had an idea. The idea was to go out and just ask people what they think, collect their feedback, analyze the feedback data, and give it back to the people that she asked. The result is her Web tool called Honestly Now, which is available for general use. All you have to do is create an account, setup a profile and start a conversation!
Tereza learned that collecting feedback from the crowd can help her make daily decisions and there is high value to just asking people what they think. Watch Tereza's talk.
Adam Leibsohn
Adam was a successful marketing manager in the online advertising industry but he felt like there was something missing. As more and more online tools are collecting browsing behavior of people in an effort to offer more targeted ads, there is more information to filter through and a lot of data that just didn't have value. He also realized that people have very unique needs and corresponding browsing behavior. How can I track my Web usage?
So he created his own application. voyurl is a browser-based tool that collects browser history and gives you a rich set of reports to help you better understand how, when, where, and how long you surf the Web. Some of the questions he set out to answer was:
* What kinds of sites to I spend my time on?
* How do I break my personal information filter bubble?
* How can I adjust my behavior to balance my browsing in more impactful ways?
Adam learned that by collecting Web browsing data, you can identify patterns to help you optimize your browsing experience and expand your exposure to different content on the Web. He also learned that the visual aspect of representing data and patterns is a very important catalyst for affecting change in a way that data in a spreadsheet just can't accomplish. Watch Adam's talk.
Thanks everyone for coming out. Planning is underway for our next event in October. Join the New York group on Meetup.