New York QS Show&Tell #7 – Recap
May 19, 2010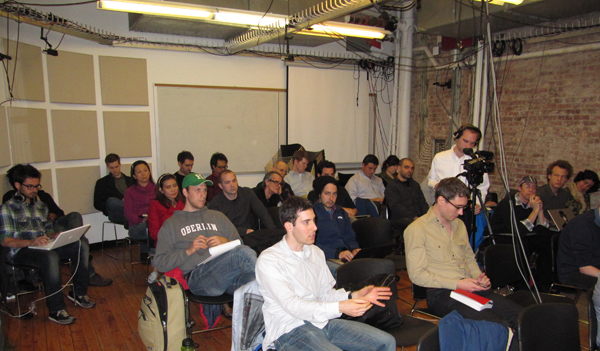 About 40 or so self-quantifiers showed up despite the heavy rains on Broadway to witness another fascinating night of self-tracking projects with enough surprises to keep the interest high.
Thanks to Dan O'Sullivan and Mustafa Bagdatli we got a chance to return to the well-wired labs of NYU ITP.
Videos will be posted to the blog and Vimeo soon. Here's a quick recap of our 7 presenters:
Steven Lehrburger presented his project Where Do You Go, a web app that visualizes your foursquare check-ins as a heat map that you can share with others.

Esther Dyson brought us up-to-date on the rapidly changing world of consumer genomic sequencing with a report from the GET Conference.
Gyula Borbely from BodyTrace gave the group a demo of his body weight scale that uses the GSM network to transmit your weight to their website.
Robert Carlsen took us through mountains of data (literally) in his Visualizations of Cycling project including his iPhone app, Mobile Logger, that gained hundreds of new users after the Gizmodo mention last week.
Taz Delaney who describes himself as a 56-year old lifelong multimedia artist, technophile, xenophilic mystic, beat-hippie-punk druggie animist anarcho-socialist anti-war anti-corporatist animal and eco activist talked about his dreams and odd events journaling that he's been doing religiously since 1968!
Zach Taylor showed us his Android prototype project called Fit*ly, an incentive-driven mobile application for personal improvement. I mentioned the Snaptic Challenge and then Esther piped up that she's a judge! Zach, get your submission in.
Marco Castro presented his NYU ITP thesis project, Weighting Chair, a chair that weighs you as you eat.
A special thank you to Mustafa and the ITP team for providing a 5-camera view streaming solution and Evan Creem for videography.