Nike+ FuelBand vs Fitbit Tracking: Are they the same?
January 19, 2013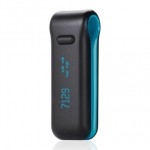 Gary and I were inspired to start looking into activity tracker data by James Wolcott's comment in his recent Vanity Fair Story:
According to Fitbit, I took 7,116 steps on November 27; Jawbone has me at 2,192, a bit of a discrepancy. I prefer to believe Fitbit's higher tally is the correct one, because that is the cotton-candy cloud on which I dwell, but perhaps I'm fooling myself and Jawbone has me accurately pegged as a potted fern. Further testing is clearly indicated, as they say in those clinical trials.
Wolcott is talking about the Jawbone Up. Neither of us own a Jawbone UP (yet), but we were nonetheless curious: do common activity trackers agree? We know that this could be studied rigorously, but the first step is just to find out what happens in our own real use. Gary had a Fuelband, I had a Fitbit. Each of us bought the one we were missing. We focused mostly on step counts as this is one of the most common metrics that activity trackers provide.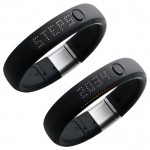 What did I do? I started wearing both the FuelBand and the Fitbit (the Ultra model) on the morning of January 10th and for the next seven days they were integrated into my daily life. . I attempted to make sure that I was acting as I normally would, nothing out of the ordinary. You'll see below, this include a wide variety of activities and levels of activities.
How did I do it? This was the simple part. I just wore the devices like you're supposed to. The FuelBand took the place of my watch on my non-dominant wrist and the Fitbit kept it's place on the waistband of my jeans or shorts. I put them on in the morning and took them off at night. I tried to make sure that they were always worn together so when one came off for any reason (changing clothes, showers, etc.) the other was also taken off.
What did I learn? Here's a quick chart that illustrates my daily step totals from both devices.

As you can see here the FuelBand the Fitbit devices were in very close agreement across six of the seven days I wore them together. A closer look at the data indicated that at worst the difference  was 1493 steps (January 10th, a very inactive day).  The closest match between the devices was on a my most active day (that included a 10-mile run) with a difference of only 56 steps.
I was pleasantly surprised to see that the data from both these devices were roughly the same.  Now, it takes some explaining here to understand why that's surprising to me. I've been using accelerometers, which are the basis for both these devices, in my research and daily life for years. I've always been wary of wrist-worn activity tracking like that used by the FuelBand. Something about it just doesn't seem right. I know machine learning and pattern recognition algorithms are getting better, but wrist/arm movement doesn't always match up with leg movement, at least in my head. This short real-world test has shifted that thinking for me.
What's next? Come back soon to hear about Gary's experience, which was very different. If you've compared two different activity trackers, please let us know in the comments.