Numbers From Around the Web: Round 8
May 24, 2012
If you have diabetes, or know someone who does, you've probably encountered a blood glucose monitor. Like many medical devices, design and data visualization are usually an afterthought. While there are many new exciting products coming to market like the iBGStar designed by Agamatrix, there are individuals who want to learn more than just their current blood glucose values. Diabetes care is also moving towards an automated and coordinated process driven by continuous blood glucose monitoring and implantable insulin pumps. These devices live on data, huge amounts of data, but what do their users know? More specifically, what do their users understand about their data, their condition, and themselves?
Doug Kanter is a designer, photographer and a student in the Interactive Telecommunications Program (ITP) at NYU. He's also a Type-1 diabetic who has a keen interest in applying actionable design and interaction schemes to the data he gathers from his monitoring systems.
It is time to re-imagine the entire user experience of being a patient with diabetes. There is tremendous potential in applying information technology, creative design and research into behavior change into a comprehensive product for patients. Technology-based solutions are increasingly important resources in these times of skyrocketing treatment costs and lmited doctor availability.
Doug has been using his skills to better visualize and understand his own data, particularly his continuous blood glucose monitor. His first project, 7729, explored one month of his continuous blood glucose monitoring – the 7729 readings to be exact.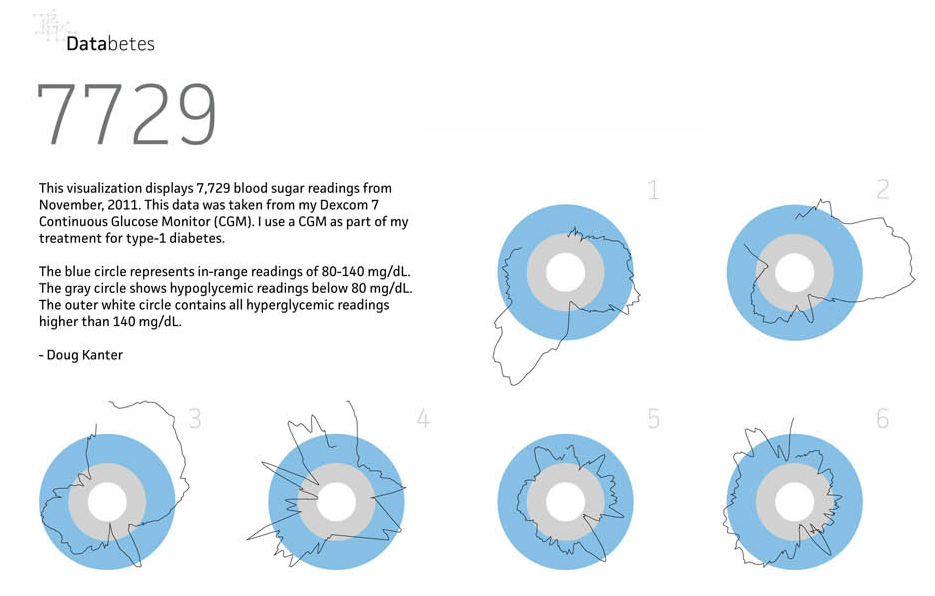 His second project expanded on the 7729 project to include not only his blood glucose monitoring, but also the insulin he was receiving. Insulin on Board, is based on 100 days of data collection and includes 820 insulin pump reading and 25,012 blood glucose reading. By coordinating these two data sets he was able to look for patterns and identify the efficacy of his insulin dosing.
The goal of Insulin on Board was to better understand the relationship between the insulin I take and the resulting blood sugar readings. It visualizes not simply when I take a dose of insulin, but when that insulin "kicks in." Because insulin has a latency, it is helpful to see it actually has an effect on blood sugar. Often times I'll take two or more doses of insulin within a few hours. Insulin on Board calculates the sum overlapping effect of these dosages.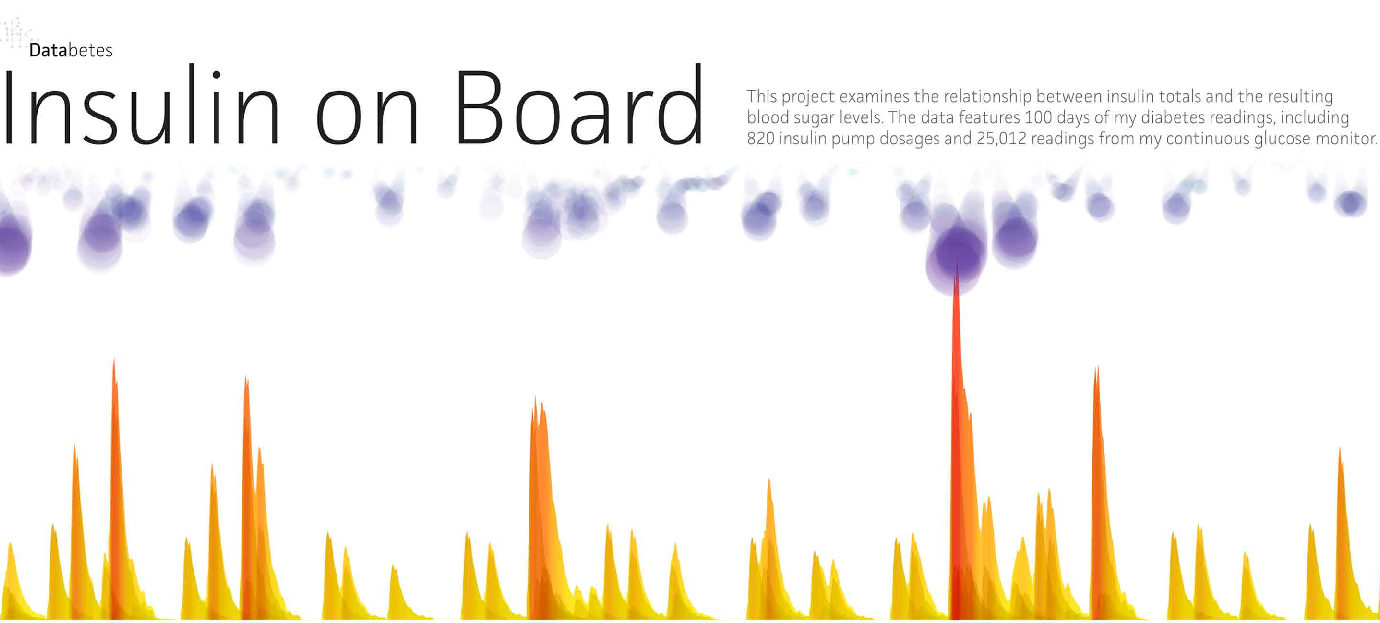 I think patients like me could benefit massively from having improved visualizations that give you both a solid overview of how you are doing but also allow you to dial down into the details if you want.
Being a student and designer, Doug has done a great job explaining the process he takes for developing these visualizations. If you're interesting in learning more about how he created these visualizations, what he learned, and future work you can follow along at Databetic and his blog.
Every few weeks be on the lookout for new posts profiling interesting individuals and their data. If you have an interesting story or link to share leave a comment or contact the author here.