NYC QS Show&Tell Heads To Brooklyn on Wed. Mar 31st!
March 5, 2010

Daniel Navetta and his team at ApKmedia are putting the final coat of paint on their newly renovated loft space in Greenpoint, Brooklyn that will become a hub for talented and ambitious filmmaker, artists, musicians and (I add) self-quantifiers. Their space will host photo shoots, video shoots, artist "micro-shows," album listening parties, creative community dinners and Show&Tells like Quantified Self.

Help us spread the word and get folks from Brooklyn who are doing any kind of self-tracking projects. Talk to artists, hackers, engineers, scientists, students and tell them to come share their work with our group in Greenpoint on the night of Wednesday, Mar 31st.

More details and RSVP are here:
NY Quantified Self Show&Tell #6 (Greenpoint, Brooklyn)
Sneak Peak: Last December I saw a fascinating project at NYU – ITP by Mustafa Ba?datl? called bed_data that uses a force sensors matrix to detect pressure on the bed to understand how your bed sees you while you are sleep. Mustafa will present this project along with a mood-tracking garment.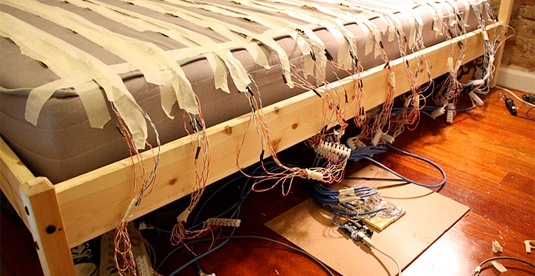 RSVP and bring your self-tracking projects to Greenpoint, Brooklyn.