NYC QS Show&Tell I – The Beauty of Self-Tracking
June 3, 2009
Last night was the inaugural NYC version of the Bay Area QS Show&Tell held at Parsons The New School for Design, on the newly renovated ground floor in the "Bark" Orientation Room (it's literally covered in bark).
Presentations included lots of very original and self-expressive charts of stuff tracked.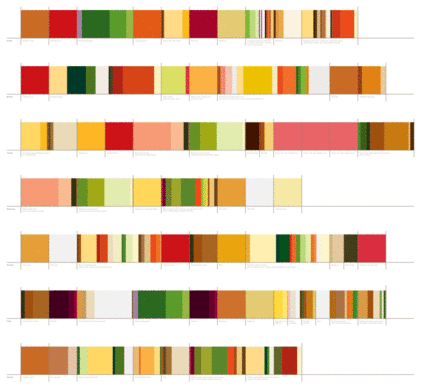 Mimi Chun presented some beautiful artifacts in the form of diagrams and graphs with remarkable detail illustrating some of her self-tracking projects including the color of her food palette. "Square Meal" is shown above.
Matthias Hollwich forecasted the future of architecture in 100 years.
Devon Jones from the hacker collective NYC Resistor showed us a fascinating approach to hacking your Prius by using a laptop and the modular, open source system BUG from BugLabs.
Garfield shared with us a nifty online tool called Shifd that links up your mobile device and Google docs. (I ran home and signed up. Joe Betts-Lacroix should love this tool!)
Josh Klein and his wife Hulda told us about how they catalogued all their possessions as they were preparing to move to Iceland — what they loved, liked, used, didn't use — and then relied on that same catalogue when they returned to NY to furnish an empty apartment.
We closed the evening with Nicholas Felton and Ryan Case presenting some of the many self-tracking projects from Daytum including one by a dog named Charley.
Thanks to all who attended. A great beginning to the NYC QS Show&Tell! Thanks to Chris Finlay, our videographer Seth Ludman, Gary Wolf and Kevin Kelly for all their help. We'll get video clips up soon.