Oura Ring on Kickstarter: Sleep and Activity Tracking On A Finger
August 18, 2015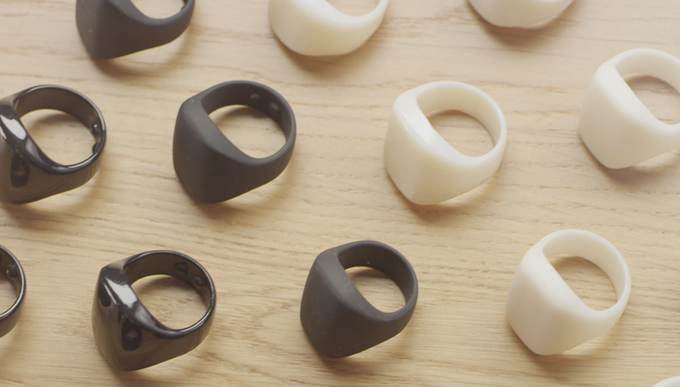 I first got a look at the Oura ring at the Quantified Self Public Health Symposium last May. I was surprised that the Oura engineers had managed to get sleep and activity tracking into  a bit of jewelry the size of a ring, and ever since I've been deeply curious to experiment for myself. Although a few samples showed up at QS15, there was nothing we can could take home with us. But the Oura ring campaign on Kickstarter launches today, with delivery estimated for November 2015. The company is a QS sponsor, and they're offering readers here and our followers on Twitter a few hours head start on the campaign's very limited number of $199 rings. (They have just 500 0f these, after which the minimum pledge to get a ring rises to $229).
The Oura ring has both optical sensors and an accelerometer, an increasingly common duo, used in the Apple watch and quite a few other devices. But I thought that the combination of sensors and battery demands would make a ring-size sleep and activity sensor challenging.
Of particular interest to me is the offer of "laboratory accurate" measurement of heart rate variability, or HRV, using the optical pulse sensor. Heart rate variability is the the variation in the time between heart rates, and it's useful for Quantified Self experiments involving measurement of emotional arousal and stress. HRV is relatively easy to get, if you have an accurate heart rate monitor, but typically these have taken the form of elastic chest straps. Even Apple, with its relatively capacious watch, doesn't yet promise accurate measurement of HRV. If the Oura ring ends up offering accurate HRV in a ring that is easy to keep on at all times, it will spark a lot of very interesting new projects.
Thank you to Petteri Lahtela and Hannu Kinnunen, the Oura founders, for giving us a few hours head start. We wish you good luck on your campaign!
For early access use this link: Quantified Self Access to Oura Kickstarter.
Note: both Petteri and Hannu will be at Quantified Self Europe conference in Amsterdam on September 18 & 19.