QS Access: See Your HealthKit Data in a Table
September 16, 2015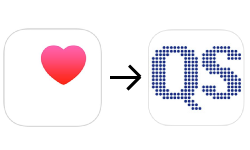 A year ago we released QS Access, a simple app that allows you to see your healthkit data in a table. Our idea was to make it easier for people to explore their data using familiar tools, such as Numbers, Excel, or any  spreadsheet program that can open a .csv file. We've really enjoyed hearing its been useful, and we've received lots of good feedback. This week we released a new version of the QS Access App that contains some commonly requested features. You can now:
See raw data from individual elements, such as running.
Store the query details, so you don't start from scratch each time.
Choose units for many quantities.
Get a table of your sleep data.
We're still listening, so if you are using QS Access and have feedback for us please let us know by emailing qsaccess@quantifiedself.com.