QS Access: Exporting Uber Trip Data?
January 15, 2015
Quantified Self Labs is dedicated to the idea that data access matters. Moving forward, we're going to be exploring different aspects of how data access affects our personal and public lives. Stay tuned to our QS Access channel for more news, thoughts, and insights.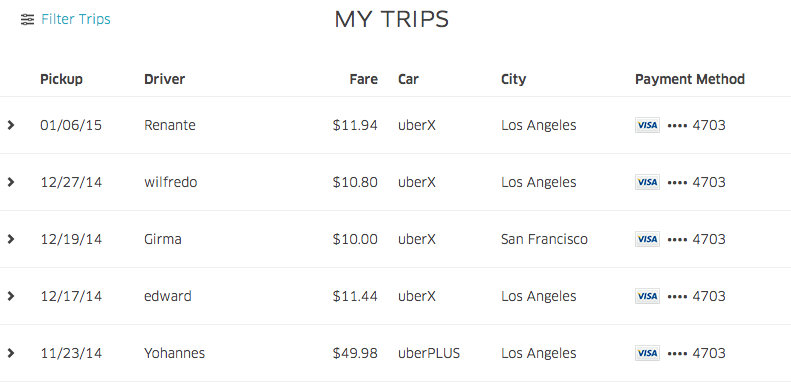 On January 13th Uber, a wildly popular and often scrutinized ride share company, announced they have entered into an agreement with the City of Boston to share anonymized data generated by users of the service. This is the first partnership between Uber and a local government body, but points to the ability to potentially partner with cities that want to take a peak at the vast amount of data about when and where people are traveling within their municipality. Our first reaction to this was to explore if Uber has provided any method for it's own users to access and export their trip data. Surely if they can able to export and pass along data to a third party, they can pass that data to their own users?
In our exploration of the mobile and web user platforms we found that Uber currently does not offer users with an easy way to access their data. As an Uber customer, you are provided with email receipts of your trips that include travel information, a route of the ride, and cost. This information is also available through their online user account page. However, it is not exportable and accessible in a method that allows individuals to store information in a consistent and machine readable format (such as a csv file). In our search for methods to assist in exporting Uber ride data, I stumbled upon this data scraper on Github developed by Josh Hunt. It's useful to know that Uber has a standard no scraping clause in in it's Terms of Service, but individual users accessing their own data for their own reasons is probably not what these clauses are meant to protect.
Aside from data access issues there is of course open questions about how Uber will implement privacy protections governing sensitive user data. Of course, Uber is not without fault in this space. The now infamous blog post pointing to their ability to track one-night stands (archived here) was enough for some users to question ethical standards within Uber. In their announcement, Uber touched on this issue by stating that they will provide some privacy protections by only offering anonymized aggregated data to third party partners. Protecting user privacy through data aggregation and anonymization is a step in the right direction, but there remain these open issues around data access for users. Uber and the cities they partner with will learn a lot about how we travel, but the partnership between Uber and their users could be improved by helping users (myself included) understand their own data and behavior by allowing easier access to the data we contribute when we use the service.
We're interested to hear from our readers about their experiences using the above mentioned tool, or similar tools to access and export their Uber trip data. Please let us know. We've also reached out to Uber for comment.
UPDATE
I reached out to Uber Support over Twitter and received the following response:
"Unfortunately this is not currently a feature, however we're always looking to improve and I'll pass your suggestion along! *NM" (link)