QS17 Preview: Can a Picture Be Worth a Thousand Numbers?
May 5, 2017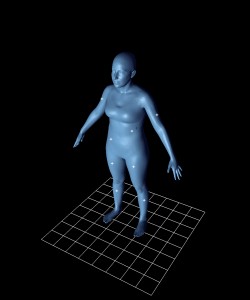 A year of tracking my body shape with 3D scans
Body shape has been shown to be a better predictor of lifestyle-induced disease than BMI. Three-dimensional body scanners enable the 3D visualization of the body and the extraction of anthropometric landmarks and measurements. I wanted to see how body scanning compared to other ways of measuring physical variations (and how it felt to "get scanned"). 
On June 17-18, the global Quantified Self community will come together in Amsterdam to share what they've been learning with personal data.
We weigh ourselves, assess our body composition, and measure our waist and limbs. But would seeing how the shape of our entire body changed over time be a stronger motivator than numerical data? Psychological motivations aside, 3D body scanning may replace BMI as a go-to health measurement. It can help estimate body fat distribution, which correlates with cardiovascular disease and cancer risk. On a fun note, 3D body scans could help us find better fitting clothes.
At the 2017 Quantified Self Global Conference, Laila Zemrani will share how a year of her monthly 3D body scans helped her estimate body fat percentage and how her shape has changed with fitness and postural therapy. You may have seen Laila's great Show & Tell talk at a recent QS Boston meetup on how strength vs. endurance training affected her body fat percentage. She also recently launched Fitnescity, a company that integrates health data – including 3D body scans – into personal wellness coaching, and contributes data to kinesiology research.
QS17 is the perfect event for seeing the latest self-experiments, discussing the most interesting topics in personal data, and meeting leaders in the Quantified Self community. We can't wait to see you there.