April 2, 2014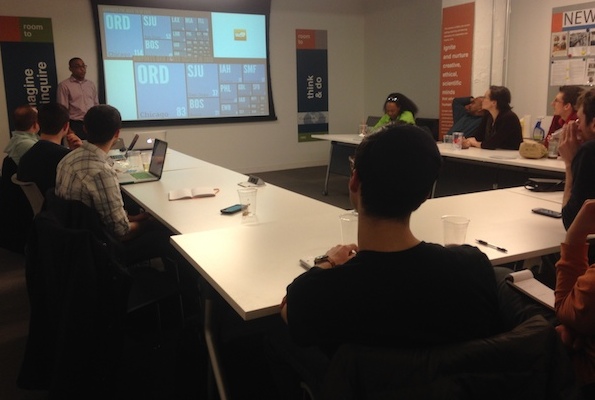 This guest post comes to us from Mark Moschel and Eugene Granovsky, the co-organizers of the Chicago Quantified Self meetup group. At their recent meetup on March 26, 2014 they had three great talks from community members. If you live in the Chicago area why not join the group!
Dan Abreu on GeoTracking
Dan travels a lot. I mean… a LOT! He stepped through an airport well over 300 times in 2012. He started documenting his travel a few years back and has used a variety of tools since: TripIt, Track My Life (discontinued), Google Latitude (discontinued), QStartz, and myTracks. During that time, his technique for tracking evolved and gained complexity. He's now able to develop very detailed maps of his trips (see below). What has he learned from all this? "Not much" he said. However, he enjoys the practice and consistency of it and is excited to continue finding more uses for this data in the future.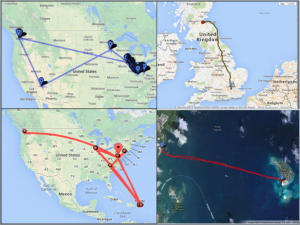 Zak Boswell on Sleep
Like many of us, Zak was on a very inconsistent sleep schedule for most of his life and would often stay up too late. However, unlike many of us, Zak was experiencing severe fatigue during the day. In the span of just a couple years, he had 4 car accidents from falling asleep at the wheel (in two, his car was totaled). Realizing this was a problem, he started exploring traditional solutions. He saw a handful of doctors and participated in a very expensive (and ineffective) sleep study. During this time, he also started tracking his sleep and decided to go to bed at a consistent time each day (around midnight). In the data, he saw his sleep quality beginning to improve. He also stopped falling asleep during the day. At first, he struggled with the change, but he's since changed his whole philosophy and loves it. You can view Zak's presentation here [PDF].
Ovetta Sampson on how tracking helped her become an Ironman (or "The science of Faith")
Let's start with the end on this one. Here's what Ovetta accomplished: 2.4 mile swim, 112-mile bike ride, 26.2 mile run – all in under 17 hours. Wow! Even more impressive is that she was never an athlete growing up and weighed 270 lbs in 2012. In just a year, she turned a seemingly impossible goal into a real accomplishment. How? She found faith in her data. "Tracking data helped me change my behavior" she said. By tracking her times, weight, speed, and distance, a few things happened: 1) she quickly saw progress and was motivated to keep going, 2) she became competitive with herself, always trying to beat her last score, and 3) she could ignore the thoughts in her mind. As she said, "you have to trust something and the mind is not to be trusted. Trust the data." Her thoughts kept telling her to quit, but the data proved she was doing well. She didn't quit and now she's an Ironman. You can view Ovetta's presentation here [PowerPoint].
For those of you in the Chicago area Elmhurst Art Museum is hosting a new exhibit called "Lifeloggers: Chronicling the Everyday." Check it out here.