QS Europe 2013 Conference Preview: Rain Ashford
February 13, 2013
The second QS European 2013 Conference is coming up. We run our QS global meetings as "carefully curated unconferences," meaning that we make the program out of ideas and suggestions from the registrants, with a lot of thoughtful back-and-forth in advance. Today we're highlighting Rain Ashford.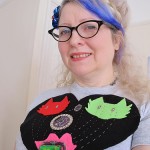 Rain is currently a researcher in the Art and Computational Technology Program at Goldsmiths, University of London. She has been experimenting with wearable electronics since 2008. At first her work centered on interactive wearables for music and gaming, but she soon became interested in mood and social behavior. Her curiosity led her to what she calls "physiological responsive wearables."
Being a "shy geek" Rain started to explore how people behave in social situations and how interactive wearables might help individuals navigate potentially awkward situations. This includes helping others understand your social or emotional state. In the past she experimented with a combined heart-rate and proximity sensor in order to track and let others know what effect social interactions have on the wearer.
At the conference she's going to share what she's learned by experimenting with many types of wearable sensors and visualization systems. For instance, her Baroesque skirt, combines body temperature measurement and environmental data (air pressure, temperature, altitude) and visualizes the combination with LEDs sewn into the skirt.
The Baroesque skirt is part of an investigation into looking at how I fit into the 'bigger picture' amongst the swathes of available data from the environment around me. Previously, I had been exclusively looking at my own data via wearables, but came up with the idea for the Baroesque skirt because I wanted to track and visualise my data alongside that of the places I live and visit.
We're hoping Rain will bring some of her work along for us to see first hand.
The Quantified Self European Conference will be held in Amsterdam on May 11th & 12th. Registration is now open. As with all our conferences our speakers are members of the community. If you're attending the conference and want to present your self-tracking project please let us know.