QS SHOW&TELL #5 – Short report
April 1, 2009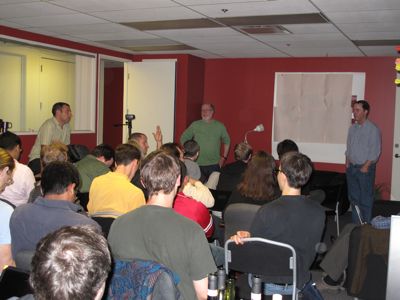 There will be video of last night's great QS Show&Tell coming soon. A big thanks to David Duncan for hosting us at the San Francisco writer's grotto, where more than fifty attendees packed into the social area, sitting on chairs, couches, and standing in back. These notes were made in passing – I may have forgotten somebody or mistaken something so please feel free to point this out and I will correct!
David Duncan gave high speed tour of the research on self-measurement and personalized medicine contained in his new book, Experimental Man.
Then Joe Betts-LaCroix and Lisa Betts-LaCroix gave a typically interesting and funny talk on self-tracking in a relationship – what it means and what it can mean.
Alexandra Carmichael of CureTogether asked the question: who do you trust for health information, experts or the crowd, previewing a debate she is going to be having at health2.0 with advocates of "expert only" medical information sites.
Paul Sas talked about some of his experience analyzing psychological behavior, and proposed a social rating experiment; a dinner at which one's qualities/behavior are scored by others. (See an abstract of Paul's interesting Ph.D. dissertation about difficulties in establishing explicit definitions of life goals here.)
Seth Roberts talked about experiment design. His message: do not be delayed by over thinking your experiments. Do a simple experiment, then do another experiment to solve the problems you learn about. Seth has a great collection of links about self experiment here.)
Mark Carranza announced his intention to open up his self-tracking software to collaborative development, and invited help/participation.
There was a good talk by Dan Mosedale who has been tracking sleep. Facing the possibility of a grueling operation for sleep apnea, he wants a better measurement of his actual sleep quality than is available in the artificial environment of the sleep lab.
The final talk of the night was by Gopal Sarma about optimizing mental performance; he set forth a vision of measurable training for intellectual life that mirrored training for competitive sports.
Very interesting conversation both before and after – when I left there was still a crowd out on the sidewalk.
Thanks to all who attending. I look forward to posting the videos when we have them uploaded.