QS15 Conference Preview: Evan Savage on Data Sense
March 17, 2015
On June 18-20 we'll be hosting the QS15 Conference & Expo in San Francisco at the beautiful Fort Mason Center. This will be a very special year with two days of inspiring talks, demos, and discussion with your fellow self-trackers and toolmakers, plus a third day dedicated to the Activate Exposition. As we start to fill out our program we'll be highlighting speakers, discussion leaders, sponsors, and attendees here.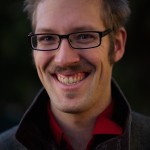 Evan Savage is an ex-Facebook full-stack engineer turned personal data, education, and persistent gameplay hacker/entrepreneur. Currently, he is working on Data Sense, a web-based tool to make personal data analysis accessible to the rest of us. Evan is also an avid cyclist, decent cook/homebrewer, and an occasional electronic music composer.
Evan will be showcasing Data Sense during one of our two Lunchtime Ignite sessions. During his presentation he'll talk about the making of Data Sense using screenshots of visualizations from Data Sense itself. He'll also touch on broader ideas and lessons for helping non-technical users understand their data through visualization. Here's a preview of a Data Sense visualization of Evan's Facebook posting and music-listening habits during several months of development time: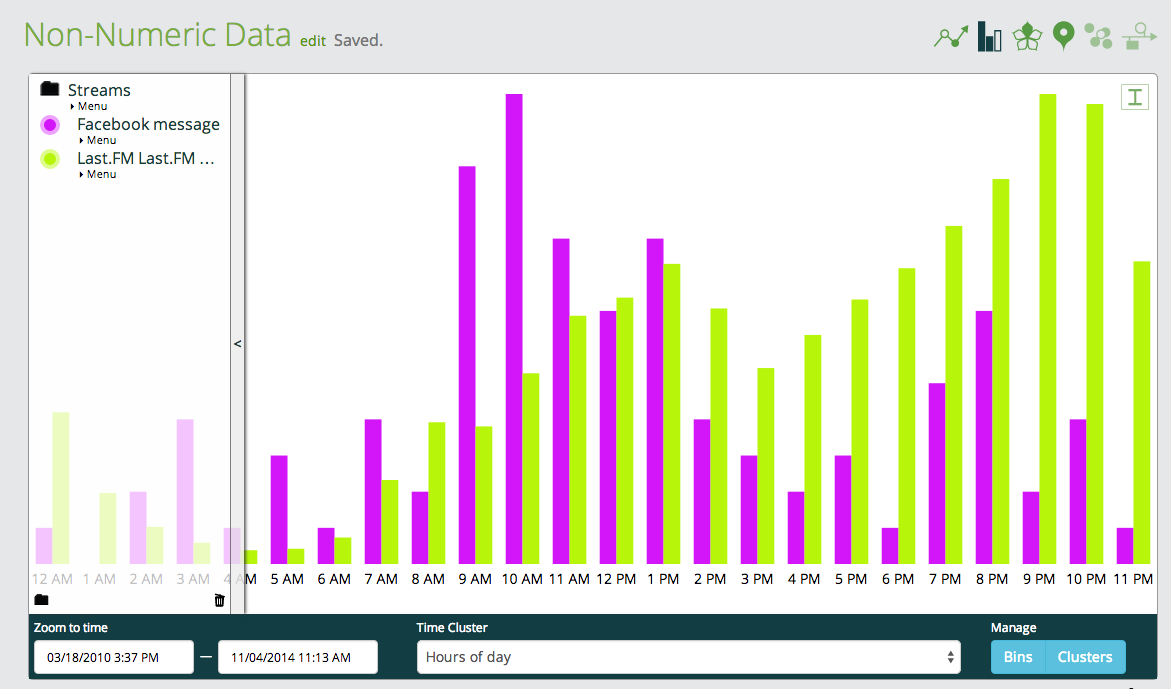 We're excited to have Jamie joining us at QS15 and asked him a few questions about himself and what he's looking forward to at the conference.
QS: What is your favorite self-tracking tool (device, service, app, etc)?
Evan: As Luddite as it sounds, some of my most life-altering data-driven changes have come from simple pen-and-paper tracking. It's about as close to universally accessible as you can get: the only barriers to entry are pen, paper, and basic writing/literacy skills. Compare that with websites (<3B users) or smartphone apps (<2B users).
OK, that's sidestepping the question. As a geek, I have to admire IFTTT; they're essentially teaching programming/UNIX concepts by stealth! That, and their list of supported services is impressive.
QS: What are you most looking forward to at the conference?
Evan: This is super-specific, but: Stephen Cartwright's kinetic data sculptures. Believe it or not, those sculptures were my first exposure to the QS community at large. Before that, I'd been self-tracking to help address panic/anxiety issues, and decided to attend QS12 on a lark. I walked into the atrium, saw this moving rod sculpture physically stepping through timeseries datasets, and knew that I'd come to the right place.
There are very few boundaries around what is and is not QS – which is great! It's a radical inclusiveness that was incredibly welcoming when I first joined, and it's absolutely worth preserving.
QS: What should people come talk to you about at the conference?
Evan: Well, I'm co-organizing the breakout session on data visualization…
As for interests: education (see below), gameplay (in some sense, QS is the ultimate immersive game), data ownership (do you truly own your data if you can't understand it?)… but really, if you have something interesting to say – and we all do – I'm eager to hear it.
QS: What tools, devices, or apps do you want to see at the conference?
Evan: An intracorporeal sensor for reliable food tracking that doubles as a tricorder.
More seriously: I'd love to see a section of floor for the hardware/sensing hackers, a space to really interact with these projects where QSers are building wireless weight scales from scratch, reverse-engineering Fitbits, hacking exosenses and real-time feedback, etc. This would be similar to the visualization gallery: a celebration of the awesome, quirky, and highly personal things that our fellow QSers are up to.

QS: What topic do you think that Quantified Self community is not talking enough about?
Evan: Data literacy. There's a pernicious assumption that "the average user" can't or doesn't want to understand their own data: it's too technical, people have limited attention spans, etc. It has to be pre-chewed and regurgitated at them, a sort of dataviz pablum. Word clouds and chartjunk dashboards abound.
QS could be a powerful tool for making data literacy relevant. Think of it as the core of a science/stats curriculum for the digital age, one students might actually relate to, and you've got the idea.
Evan's session is just one of the many hands-on, up-to-date, expertly moderated sessions we're planning for the QS15 Global Conference and Exposition. Register here!