QS17 Preview: Managing Parkinsons 8,765 Hours a Year
May 25, 2017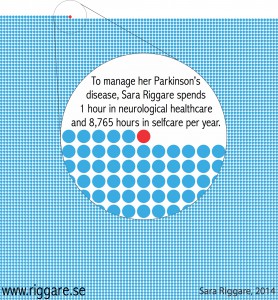 Sara Riggare: "I will share how I work to keep up with my progressive neurological illness by tweaking and re-tweaking my medications, including what I've learned from the most recent changes to my Parkinson's medication."
I love this clear illustration of the value of health-tracking between visits to the doctor – especially for disease management. At QS17, Sara will share the insights health tracking has allowed her to glean from decades of experience with Parkinson's.
Managing Parkinson's disease requires constant tuning. The symptoms result from decreased dopaminergic signaling from a brain region that helps set the tone for our movements. Without enough dopamine, movement is slow or impossible. Too much and movement is fidgety or ballistic. To add to the complication, the natural levels of dopamine in the brain fluctuate throughout the day – meaning that the same medication  affects a patient differently depending on when it is taken. This makes Parkinson's management a careful balancing act – not something that can be calibrated in just one doctor appointment per year.
Sara makes great use of the 8,765 hours she's not in the doctor's office to keep a record of how exercise, sleep, and shifts in the complicated dosing of her medications influence her symptoms. She has put her self-tracking to scientific use by conducting graduate research at the Karolinska Institute, and has been called "a thought leader in Parkinson's in the new age of social media." We're excited to hear at QS17 how she re-calibrated her doses after adding a new medication to her drug regiment.
Just a few more weeks until the 2017 Quantified Self Global Conference! We can't wait.