Quantified Self at CES: Digital Pedometers Add Wireless Heart Rate Tracking and More
January 9, 2013
I've been curious about tracking physical activity since I was an undergraduate. I remember traveling to a local middle school with a researcher interested in how physical activity was taught in low-income Native American communities. Back then, the best we could do was have the children wear simple electromechanical pedometers to count their steps during their physical education classes. Fast forward about ten years and I'm still working with pedometers and physical activity sensors – but much better ones. Quantified Self toolmakers are experimenting with many upgrades to the old digital pedometers, including new ideas about syncing, more fashionable design, and – of particular interest to self-trackers – integration of optical heart rate monitors. (No chest strap.)
Below are some of the notable Quantified Self tools recently announced at CES. Did I miss one? Let me know in the comments and I'll add it! I've also written a bit about what I think are some notable trends below.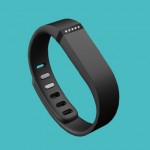 Fitbit Flex
The Flex appears to be Fitbit's answer to the growing trend of wrist worn wearable activity monitors. Interestingly they've chosen to focus on the wireless syncing capabilities and eschew a traditional display; there is just a small glanceable LEDs to highlight goal progress.
Measures: Steps, Distance, Calorie Burn, Activity Minutes, Sleep Time, Sleep Quality
Sync: Bluetooth 4.0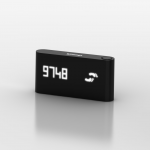 Withings Smart Activity Tracker
In 2013 Withings is stepping in to the activity tracking space with their Smart Activity Tracker. While it appears to be just another accelerometer-based device Withings has also packed a heart rate pulse sensor into the small form factor.
Measures: Steps, Distance, Calorie Burn, Sleep Quality, Heart Rate
Sync: Bluetooth and Bluetooth 4.0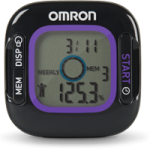 Omron Activity Monitor
Omron has long been a staple in the low-cost pedometer market. With the launch of their Activity Monitor they've shown up with a wireless activity tracker of their own. Omron is semi-wireless; syncing requires that you plug a USB accessory into your computer, then place the pedometer nearby.
Measures: Workout Time, Steps, Distance, Calories burned, Pace
Sync: NFC Plate (USB)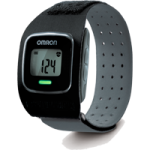 Omron Heart Rate Monitor
Integration of pulse tracking  into activity monitors is a current trend, and we're very curious about what we'll learn from having continuous heart rate data. Omron's new heart rate monitor uses optical sensing on a strapless watch, with eight hours of storage capacity. The press announcement promises pace, calories, and distance, which means the watch probably has accelerometer-based actigraphy on board as well.
Measures: Heart Rate, Pace, Distance, Calories Burned
Sync: Micro USB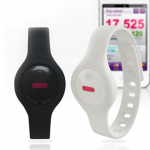 Fitbug Orb
The Orb is new small and sleek device that builds on their already released Fitbug Air wireless pedometer. The new pebble-like Orb is a screenless activity tracker that uses Bluetooth syncing to a mobile app in three different modes: Push for updates on demand, Beacon for timed updates on a regular interval, and Stream for real time updating. The Orb's small form factor works with a variety of different wear options, including wrist straps and lanyards.
Measures: Steps, Distance, Calories Burned, Sleep
Sync: Bluetooth 4.0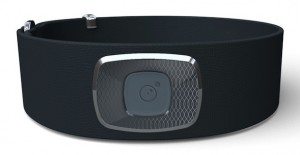 BodyMedia Core 2
The BodyMedia armband is known for its accurate activity tracking, which comes from integrating the data off multiple sensors. A new device, the Core 2, has the same measurements that are currently available (core temperature, heat flux, galvanic skin response, and tri-axial accelerometry) in a smaller package. A version with an integrated heart rate monitor will be also be available.
Measures: Temperature, Heat Flux, Galvanic Skin Response, Activity, Heart Rate (optional)
Sync: Bluetooth 4.0
Bonus Non-Activity Device
HapiLabs HapiFork
This last device kept popping up on my various feeds yesterday. The HapiFork is designed to help you understand how you eat by tracking how many bites you take and how long it takes you to eat your meal. It will also alert you when you're eating too fast.  Will the first person to use this please give a Quantified Self show&tell talk as soon as possible?
Measures: Fork "servings", Eating Time
Sync: Bluetooth or USB
In my current work I'm really interested in how real time information about physical activity behavior can be used to help people change their normal patterns. In our little corner of the research world we understand that self-tracking devices are wonderful tools to help people change their behavior. But, what we don't know yet is how the data gathered by these tools can really help people in the moment. The newest crop of tools and devices may start to help us answer that question.
By now if you've seen one physical activity tracker then you've seen them all. At their core they use the same technology that's been used for almost a decade – actigraphy. That is, most devices are based on an accelerometer, a tiny little sensor that measures gravitational force acceleration. These sensor pass data through an algorithm that used machine learning and pattern recognition techniques to determine a variety of data points. Steps, distance, activity intensity, calorie expenditure – you're probably familiar with all these. So what's new in this space? How are companies starting to differentiate themselves? While looking through some of the new offerings being showcased at this week's International Consumer Electronics Show (CES). It appears that there are two major themes that I think are coming forth: Wearability and Syncing
Wearability. The pedometers we made kids wear 10 years ago? Utilitarian hunks of plastic and electronics. Nothing you would want to show off to your friend or coworker. Looking at the latest from Fitbit, BodyMedia, and others it's clear that companies are introducing real fashion where there used to be just electronics. Will they succeed in making activity trackers a fashion trend? A status symbol?
Syncing Capabilities. When Fitbit introduced their tracker a few years ago one of the biggest complaints was that it didn't sync to our phones. Now, nearly every new device offers Bluetooth syncing with paired mobile apps. The rise of Bluetooth 4.0 has made it easier for nearly everybody to wirelessly sync. I'm curious about the future of low power data sharing beyond the phone. Soon we may see myriad devices talking to each other directly. What happens when your fitbit starts talking to your fridge?