June 1, 2014
We've compiled quite the variety of articles and links for you. Make sure to check out the show&tell and visualization sections below for some great Quantified Self examples. Enjoy!
Articles & Posts
To lead off today's list I'm including two great posts from attendees at our recent 2014 QS Europe Conference. You can read more attendee recaps over onour roundup post.
Ten Things I Learned at the 2014 Quantified Self Europe Conference by Bob Troia. Bob takes a look back at the conference and describes his experience.
Quantified Self and Philosophy at #QSEU14 by Kitty Ireland. We hosted over 36 breakout discussion at our recent European Conference. In this post, Kitty describes one of the "standout sessions" that she attended.
Okay, back to list!
Wearable Computers Will Transform Language by Ariel Bleicher. This is a long piece, full of excellent examples of how personal personal computing is becoming, but my favorite leads the article. Wearable computers in 1961. Who knew!
CyclePhilly hopes to record biking patterns to help plan bike lanes by Jim Smiley. A big theme of our discussions at various QS events this year has been around the social and public good the personal data can do. This project, led by Corey Acri and Code for Philly, hopes to better understand where commuters are actually riding their bikes. This also reminded me of a recent data sharing deal between Strava (a GPS activity tracking app) and the Oregon Department of Transportation.
How Much Can We Demand of Consumer Connected Health? by Joseph Kvedar. We've mentioned this before on both the QS blog and in the reading list, self-tracking device accuracy is a tricky concept. In this short post Dr. Kvedar describes his experiences and some results using consumer tools in a clinical setting.
In-Depth: How Patient Generated Health Data is Evolving Into one of Healthcare's Biggest Trends by MobiHealthNews. This is a nice long piece covering many aspects of the growing role of different types of health data in healthcare. I personally enjoyed learning more about the challenge of combining patient reported data with electronic medical records.
Show&Tell
Treadmill Effect of Spaced Repetition Performance by Gwern. In this exhaustive examination, our friend Gwern decided to test whether walking on a treadmill helped his memory. Specifically he randomized if practiced his spaced repetition while walking at his treadmill desk or sitting down and then looked at his grades (flashcards remembered correctly). You'll have to read it to see what he foun. (Make sure to check out his other experiments as well!)
My Sleep Cycle Experiment and What to Limit Before Bed by Greg Blome. This is a great breakdown of what Greg found out about what affects his sleep by tracking 150 nights of sleep with the Sleep Cycle app.
Learning Ancient Egyptian in an Hour Per Week with Beeminder by Eric Kidd. Here at QS Labs we have a soft spot for spaced repetition (See Gary Wolf's great primer here). This post details how Eric learned how to read Egyptian hieroglyphs using spaced repetition and Beeminder.
Visualizations
OpenVis Conference. Here you'll find 18 great presentations by leading data visualization experts. Hard to pick a favorite, but I found Andy Kirks, The Design of Nothing: Null, Zero, Blank to be fascinating.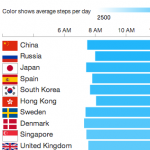 Breeze Habits by Runkeeper. The data science team at Runkeeper took a look at 75,000 worldwide Breeze App users to see what countries were getting up earlier, going to sleep later, and getting the most steps. I can't wait to see more visualizations like this from Runkeeper.
Tableau Quantified Self Viz Contest. We mentioned this is last week's reading list and the contest has is now over and we get to peruse the great entries. I'm going to include some of my favorites below, but make sure to check out all of them at the link above. You can also view the winners here.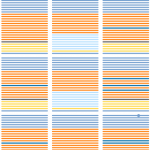 The Life of Spangler by Russell Spangler. Russell tracked his time for the month of April and presents the results.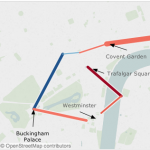 Runderground by Carl Allchin. Have you ever wondered if it's faster to run than take the tube in London? Carl has your answer.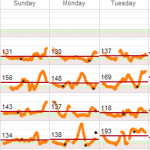 Beating Diabetes by Andre Argenton. Andre accessed the data in his Dexcom continuous glucose monitor and visualized it alongside data from his OmniPod insulin pump.
From The Forum
Measuring Cognitive Perormance
Quantified Self Reading List (books)
Want to receive the weekly What We Are Reading posts in your inbox? We've set up a simple newsletter just for you. Click here to subscribe.