June 22, 2014
Enjoy this week's list of articles, show&tells, and visualizations!
Articles
Strava is Just the Start: The Promise of Open Trail Data. by Mary O'Connor. Data standards might be one of the most boring topics that has a real impact on our daily interactions with data. In this short piece you'll learn how public transit data standards that help you know when the bus or subway is arriving are influencing a new standard for public trail mapping.
A Stroke Diagnosed With a Selfie by Olga Khazan. A brief piece here tells the story of Stacey Yepes, a woman who used her phone to record the onset of her second stroke.
On Behavior Modification and Agency by Rebecca Pardo. Do our devices change our actions or do we? This nice post by Dr. Pardo is a recommend read for anyone thinking about behavior change in the context of Quantified Self apps and tools.
Making Art out of Everyday Life by Aimme Levitt. If you're in or around Chicago this summer I highly suggest visiting the Elmhurst Art Museum for the "Lifeloggers: Chronicling the Everyday" exhibit. If you can't make it, this article about the exhibit will have to suffice.
Visualization of Human Behavior Data: The Quantified Self [pdf] by Alessandro Marcengo and Amon Rapp. This book chapter outlines ideas and insights about self-tracking from a research standpoint. The two authors go on to also describe new methods of visualization and data management they believe could positively impact people using self-tracking tools now and in the future.
Show&Tell
The DIY Pancreas by Scott Leibrand and Dana Lewis. This isn't a single post, but rather a long story about two people working together to use data to help learn about and take control of type 1 diabetes. You can start here to learn why it was necessary to hack a system together in the first place.
Can Heart Rate Variability be Useful in Predicting A CF Exacerbation? bib Julie Desch. This is a pretty early account of what Julie is learning by measuring her HRV, but it will be interesting to follow her story along the way!
Visualizations

Visits. Visits isn't just a neat visualization. It's a online platform to explore your location history, trips, and what you've done along the way. Currently it works with OpenPaths and Google Location history data as well as geotagged Flickr photos.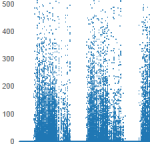 My Working Pulse by Victor Pascual. Victor uses an open-source keylogger to track his computer usage and work habits. This visualization, made with Tableau, shows his keystrokes by day and per month.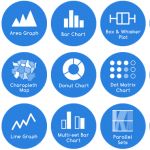 Data Visualization Catalogue by Severino Ribecca. If you're interested in the many different methods of data visualization, this is a good place to start. Severino has created a nice directory here that explains many of the different common visualization methods and the tools you can use to create them. To learn more about this project you can watch his talk at the London QS meetup here.
From the Forum
Zeo Sleep Monitor – Data Viewer Application
Jawbone Up – How to Access Intra-day Data
Want to receive the weekly What We Are Reading posts in your inbox? We've set up a simple newsletter just for you. Click here to subscribe.