July 12, 2014
Enjoy this week's reading list. If you'd like to submit something for future What We're Reading posts we invite you to get in touch!
Articles
Data Journalism Needs to Up Its Own Standards by Alberto Cairo. The influx of new data-based journalistic endeavors seems to grow by the day. In this great piece Alberto Cairo presents four suggestions for those practicing that art and science of data-based reporting.
Big Data Should Not be a Faith-Based Initiative by Cory Doctorow. The idea of "big data" as a miraculous fountain of new knowledge is widespread. In this article Cory Doctorow brings to light some of the major concerns about personal data and the true possibility of de-identification.
Data Privacy, Machine Learning, and the Destruction of Mysterious Humanity by John Foreman. This is a long read, but definitely worth the time. If you're like me you'll spend the next few hours (day?) thinking about yourself, the various companies and organizations consuming your data, and how your life may (or may not) be shaped by the information you willingly hand over.
Privacy Behaviors of Lifeloggers using Wearable Cameras [PDF] by Roberto Hoyle, Robert Templeman, Steven Armes et al. This research paper paper offers a good glimpse into the the concerns and real behaviors of people using photo lifelogging systems. This is an area we've previously explored (see Kitty Ireland's great write-up about our lifelogging town hall at QSEU13) and we expect to continue discussing.
Show&Tell
Battery Life, 6mo Checkup By James Davenport. It may seem odd to have a post about tracking battery life from a laptop here in the Show&Tell section, but this is a really neat post. As part of tracking his laptop battery he also tracked his usage and led to some interesting data about his sleep. (Don't forget to check out the post that kicked off his battery tracking.)
Bringing My Data Together by John T. Moore. John is on a journey of improving his health and being more active through self-tracking/monitoring. In this post he pulls together some of his most important data, but I also suggest reading his summary of how he got started with self-tracking.
Visualizations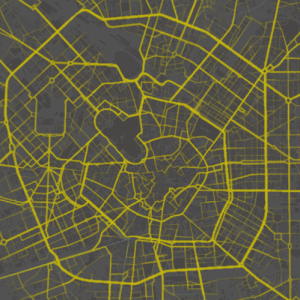 Seven Days of Carsharing by Density Design. Not exactly personal data here, but some beautiful visualizations based on one week of data from the Enjoy, a carsharing service in Milan.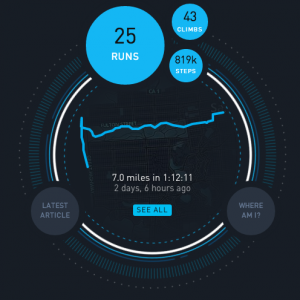 Aprilzero by Anand Sharma. I stumbled on this website recently via the #quantifiedself feed on Twitter. The visualizations and interactivity on this personal data site are really nice.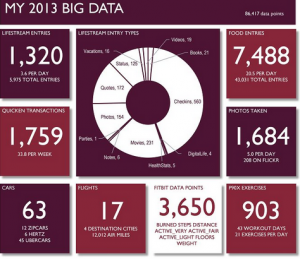 Lee Rogers' Annual Reports by Lee Rogers. Lee has been tracking different aspects of his life for more than three years. Since 2011 he's put together Annual Reports detailing his personal data. You can view his 2011, 2012, and 2013 reports on his website.
From the Forum
Devising Experiments
Looking for a General QS Device
Masters Thesis: Self-Tracking Motivations
Greetings From Germany
Want to receive the weekly What We Are Reading posts in your inbox? We've set up a simple newsletter just for you. Click here to subscribe.