July 26, 2014
A nice long list of amazing posts, show&tells, and visualizations for you!
Articles
Social Wearables by Noah Feehan. In this blog post, from the New York Times R&D lab, Noah expands on the idea of measurement and tracking devices that support "social affordances." Fits in nicely with our post from Rain Ashford on "Emotive Wearables".
Have Professional CGMs Passed Their Prime? by Will Dubois. In our continued exploration of the role of data access in the diabetes community we have run across many interesting stories. Wil's amazing post here describes how some people with diabetes are never given access to what could be the most important data in their lives.
How the Technological Design of Facebook Homogenizes Identity and Limits Personal Representation by Ben Grosser. Each piece of software we use has built-in methods that allow or do not allow us to represent ourselves to the world in a personally relevant manner. In this article, Ben Grosser, describes the various methods that the largest online identity platform uses to curtail freedom of identity expression. (For those interested in Ben's work, we suggest reading our post about his "Demetricator" project.)
Qualitative Self-Tracking and the Qualified Self by Mark Carrigan. In this post, Mark makes the case for measurement of and reflection on the quality of our human experiences to engage in qualitative self-tracking:
"… using mobile technology to recurrently record qualities of experience or environment, as well as reflections upon them, with the intention of archiving aspects of personal life that would otherwise be lost, in a way susceptible to future review and revision of concerns, commitments and practices in light of such a review."
Why Silicon Valley Needs the Coder GRRLS of Double Union, the Feminists Hacker Space by Rebecca Greenfield. A wonderful profile of the Double Union hacker/maker space for women in San Francisco. Directed by our friend, Amelia Grenhall, Double Union is making a real difference for the female and feminist community.
What is Public? by Anil Dash. A great post here by Anil Dash on why we need to fight to define "public" in an era where communication and information is increasingly occurring in online media platforms.
"By continuing to stretch the definition of what's public, and to expand the realm of what's considered acceptable use of public information, we enable a pervasive surveillance culture."
Show&Tell
"Letting Go of Things We Can't Control" + Remembering That Sleep Matters by Dana Lewis. We've shared Dana's and Scott's work on their DIY Pancreas project in the WWAR list before and we will probably share it again in the future. For now, this is an excellent post about how Dana was able to turn a long-distance relay race into a learning opportunity.
An Experiment: The Psychic Impact of Our Connected Lives by Deborah Schultz. Deborah, a co-founder of the YxYY festival, discusses why she downloaded the Red Alert, an app to inform and warn Israelis about incoming rocket attacks, and what she experienced after a week of near constant alerts.
Using RescueTime to Answer the Question: When Do I Write? by Jaime Todd Rubin. Another great post by Jaime explaining how he uses the RescueTime personal tracking software to learn more about his writing habits. For those interested, Jaime also has a nice article here about his thoughts on getting started with self-tracking.
Visualizations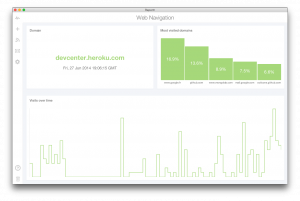 Reportr.io by Sammy Pessé. Personal data dashboards are becoming more common on the web, a way to reflect your data back to the world at large. Sammy Pessé recently released an open-source project to help you get started with creating your own personal data dashboard.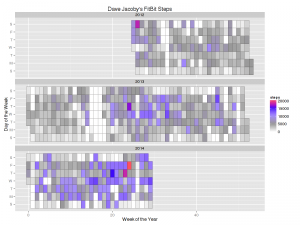 Dave Jacoby's Fitbit Heatmap by Dave Jacoby. Dave piped up on my Twitter feed during a discussion about using the popular If This Then That web service to save self-tracking sensor data. It turns out he's been doing some really interesting data processing and visualizing work with his Fitbit data. Learn more about what he's up to on his Github project page.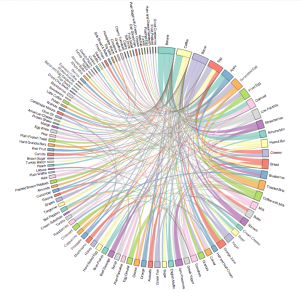 Meal of Fortune by Emi Nomura. Emi is a data scientist at Jawbone and is working on their UP tracking system. This data project was intended to look at what types of foods people eat together. Make sure to click through for the interactive visualization.
VizRisk Challenge. From our friends at the US Department of Health and Human Services comes the first government-backed competition to visualize behavioral health data. We'd love to see our QS community get involved.
From the Forum
Access to Data from Clinical Trials
What do you find to be the most valuable metrics and how do you track/plot them all?
Tracking Music Activities
Tracking HRV During the Workday
Data Aggregation
Want to receive the weekly What We Are Reading posts in your inbox? We've set up a simple newsletter just for you. Click here to subscribe.