August 16, 2014
It's a long one today, so buckle in and get ready for some great stuff!
Articles
The Quantified Self: Bringing Science into Everyday Life, One Measurement at a Time by Jessica Wilson. This piece, from the Science in Society Office at Northwestern University, explores the Quantified Self movement, with a particular focus on the local Chicago QS meetup. Always interesting to see how individuals draw distinctions between self-tracking projects and "real science."
Diversity of Various Tech Companies By the Numbers by Nick Heer. Recently Apple released data about the diversity of their employee workforce. This marked the last major tech company to publish data about diversity. In this short post Nick takes that data and shows how it compares to data from the US Bureau of Labor Statistics. Interested in more than just the big six listed here? Check out this great site for more tech company diversity data (Hat tip to Mark Allen for finding that link!)
Intel Explores Wearables for Parkinson's Research by Christina Farr, Reuters. Intel is in the news lately based on their interest in developing and using their technological prowess for qs-related activities. In this post/press release, they describe how they're partnering with the Michael J. Fox Foundation to explore how they can use wearable devices to track and better understand patients with Parkinson's Disease. It appears they're also working to get their headphone heart rate tracking technology out to market.
Spying on Myself by Richard J. Anderson. I'm always interested in how people talk to themselves about self-tracking. This short essay describes the tools that Richard uses and why he continues or discontinues using them. His follow up is also a must read.
Dexcom Mac Dance by Kerri Sparling. You know we're fascinated by the techniques and tools developed and refined by the the diabetes community. In this short post, Kerri highlights the work of Brian Bosh, who developed a Chrome extension to access and download data from Dexcom continuous glucose monitors on a Mac. (Bonus link: Listen to Chris Snider's great podcast episode where he talks to John Costik, one of the originators of the CGM in the Cloud/Nightscout project.)
Show&Tell
The Three-Year Long Time Tracking Experiment by Lighton Phiri. Lighton is a graduate student at the University of Capetown. In 2011 he became curious about how he was spending his time. After installing a time-tracking tool on his various computers, he started gathering data. Recently, after 3 years of tracking, he downloaded and analyzed his data. Read this excellent post to find out what he learned.
Experimenting with Sleep by Gwern. One of our favorite self-experimenters is back with some more detailed analysis of his various sleep tracking experiments. Read on to see what he learned about how caffeine pills, alcohol, bedtime, and wake uptime affects his sleep.
QS Bits and Bobs by Adam Johnson. Adam gave talk at a recent QS Oxford Meetup about his lifelogging and self-tracking, his custom tools for importing data to his calendar, and what he's learned from his experiences. Make sure to also check out the neat tool he's developed to log events to Google Calendar.
Visualizations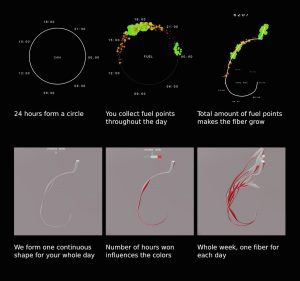 FuelBand Fibers by Variable. A design team was given Nike FuelBand data from seven different runners and created this interesting visualization of their daily activity.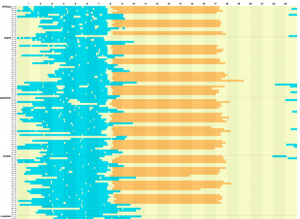 I don't Sleep That Well: A Year of Logging When I Sleep and When I'm at Work by Reddit user mvuljlst. Posting on the r/dataisbeautiful subreddit, this user tracked a year of their sleep and location data using Sleepbot and Moves. If you have similar data and are interested in exploring your own visualization the code is also available.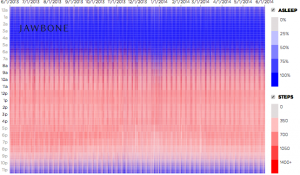 In the City that We Love by Brian Wilt/Jawbone. The data science team at Jawbone continues to impress with their production of meaningful and interesting data visualizations based on data from UP users. In this post and corresponding visualizations they explore the daily patterns of people from around the world. Make sure to read the technical notes!
From the Forum
Export Moves Data to Day One
Understanding Patents – All your transmission data belong to us
Quantified Self, It's Benefits
Sun Exposure and Vitamin D Levels Wearable Tracker
Want to receive the weekly What We Are Reading posts in your inbox? We've set up a simple newsletter just for you. Click here to subscribe.  Do you have a self-tracking story, visualization, or interesting link you want to share? Submit it now!