August 30, 2014
Enjoy this week's list!
Articles
Effect of Self-monitoring and Medication Self-titration on Systolic Blood Pressure in Hypertensive Patients at High Risk of Cardiovascular Disease by Richard McManus et al. An interesting research paper here about using self-monitoring to reduce blood pressure. The paper is behind a paywall, but since you're nice we've put a copy here.
Apple Prohibits HealthKit App Developers From Selling Health Data by Mark Sullivan. Some interesting news here from Apple in advance of their new phone and possible device release in a few weeks. I applaud the move, but would like to see more information about data portability in the next release.
Science Advisor, Larry Smarr by 23andMe. Great to hear our friends 23andMe and Larry Smarr are getting together to help work on understanding Inflammatory Bowel Disease. If you've been diagnosed with Crohn's disease or ulcerative colitis consider joining the study.
Personal Health Data: It's Amazing Potential and Privacy Perils by Beth Kanter. A lot of people have been talking recently about the privacy implications of using different tracking tools and technologies. In this short post Beth opens up some interesting questions about why we might or might not open up our personal data to others. Make sure to read through for some insightful comments as well.
Show&Tell
Let's Talk About 3 Months of Self-Quantifying by Frank Rousseau. Frank is one of the founders of Cozy Cloud, a personal could service. He's also designed Kyou a custom tracker system built on top of Cozy. He's also been using the services to track his life. In this post he explain how tracking his activity, sleep, weight, and other habits led to some interesting insights about his behavior.
The iPhone 5S' M7 Predictor as a Predictor of Fitbit Steps by Zach Jones. A great post here by Zach as he explores the data taken from his iPhone 5S vs. his Fitbit.
Using Open Data to Predict When You Might Get Your Next Parking Ticket by Ben Wellington. Not strictly a personal data show&tell here, but as someone who suffers from street sweeping parking tickets somewhat frequently I found this post fascinating. Now to see if Los Angeles has open data…
Visualizations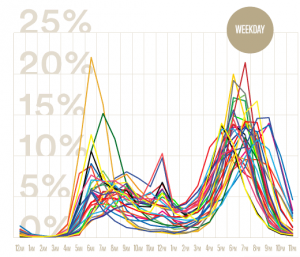 What Time of Day Do People Run? by Robert James Reese, Dan Fuehrer, and Christine Fennessay. Runners World and Runkeeper partnered to understand the running habits of runners around the world. Some interesting insights here!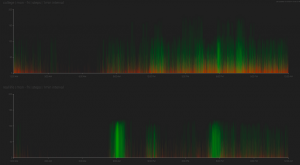 What Happens When You Graduate and Get a Real Job by Reddit user matei1987. A really neat visualization of min-by-min level Fitbit step data.


Data + Design by Infoactive and the Donald W. Reynolds Institute. A really interesting and unique take on a data visualization book. This CC-licensed, open source, and collaborative project represents the work of many volunteers. I've only read through a few chapters, but it seems to be a wonderful resource for anyone working in data visualization.
From the Forum
Good Morning World!
Quantified Chess
New Activity Tracker to Replace BodyMedia?
Indirect Mood Measures
OPI TrueSense for Sleep Tracking
Want to receive the weekly What We Are Reading posts in your inbox? We've set up a simple newsletter just for you. Click here to subscribe.  Do you have a self-tracking story, visualization, or interesting link you want to share? Submit it now!