September 20, 2014
We hope you enjoy this week's list!
Articles
Big Data in the 1800s in surgical science: A social history of early large data set development in urologic surgery in Paris and Glasgow by Dennis J Mazur. An amazing and profoundly interesting research paper tracing the use of "large numbers" in medical science. Who knew that is all began with bladder stones!
Civil Rights, Big Data, and our Algorithmic Future by Aaron Rieke, David Robinson and Harlan Yu. A very thorough and thoughtful report on the role of data in civil and social rights issues. The report focuses on four areas: Financial Inclusion, Jobs, Criminal Justice, and Government Data Collection and Use.
Caution in the Age of the Quantified Self by J. Travis Smith. If you've been following the story of self-tracking, data privacy, and data sharing this article won't be all that surprising. Still, I can't help but read with fascination the reiteration of tracking fears, primarily a fear of higher insurance premiums.
Patient Access And Control: The Future Of Chronic Disease Management? by Dr. Kaveh Safavi. This article is focused on providing and improving access and control of medical records for patients, but it's only a small mental leap to take the arguments here and apply them all our personal data. (Editors note: If you haven't already, we invite you to take some time and read our report: Access Matters.)
Perspectives of Patients with Type 1 or Insulin-Treated Type 2 Diabetes on Self-Monitoring of Blood Glucose: A Qualitative Study by Johanna Hortensius, Marijke Kars, and Willem Wierenga, et al. Whether or not you have experience with diabetes you should spend some time reading about first hand experiences with self-monitoring. Enlightening and powerful insights within.
Show&Tell
Building a Sleep Tracker for Your Dog Using Tessel and Twilio by Ricky Robinett. Okay, maybe not strictly a show&tell here, but this was too fun not to share. Please, if you try this report back to us!
Digging Into my Diet and Fitness Data with JMP by Shannon Conners, PhD. Shannon is a software development manager at JMP, a statical software company. In this post she describes her struggle with her weight and her experience with using a BodyMedia Fit to track her activity and diet for four years. Make sure to take some time to check out her amazing poster linked below!
Visualizations
The following two visualizations are part of Shannon Conners' excellent poster detailing her analysis of data derived from almost four years of tracking (December 2010 through July 2014). The poster is just excellent and these two visualizations do not do it justice. Take some time to explore it in detail!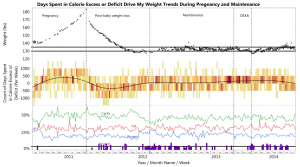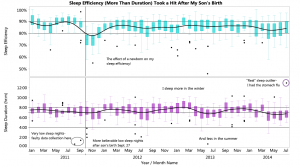 Tracking Energy use at home by reddit user mackstann.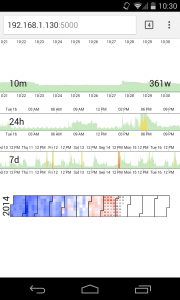 "The colors on the calendar represent the weather, and the circles represent how much power was used that day. The three upper charts are real-time power usage charts, over three different time spans. I use a Raspberry Pi and an infrared sensor that is taped onto my electric meter. The code is on github but it's not quite up to date (I work on it in bits and pieces as time permits I have kids)."
From the Forum
Help With Livestrong Data Export
Need Help Deciding Which Device
New to Fitness Tracking