October 18, 2014
It's link-apolooza time! Enjoy these great news pieces, blog posts, personal data stories, and visualizations.
Articles
Robert Wood Johnson Foundation Launches Initiative to Assess How Data Can Be Used to Improve Health by RWJF Staff. Some exciting news coming out of RWJF this week about their new program to explore how individuals and communities are using health data and information. Don't forget to read the accompanying blog post to learn more.
"For These Times": Dickens on Big Data by Irina Raicu. Who knew the philosophical debate on a life governed by measurable facts had such a pedigree!
How and Why We Are Working with the FDA: Background and a Brief Summary of the Recent Meeting with the FDA about the Nightscout Project by Scott Leibrand. We're big fans of the Nightscout project here at QS Labs. It's great to seem them moving forward with a productive dialogue with the FDA.
Sir Tim Berners-Lee Speaks Out on Data Ownership by Alex Hern.
The data we create about ourselves should be owned by each of us, not by the large companies that harvest it, Tim Berners-Lee, the inventor of the world wide web, said today.
Sensors and Sensibility by Andrew Leonard. One day we might look back at our fears of insurers nefariously using our data to adjust premiums. Until then, that fear is alive and real. Thorough reporting here from the new Backchannel.
One Quantified Self App To Rule Them All by Chris Roth. As Chris explored the growing QS space and worked on his own open-source logging app he noticed a few things. Read on to see his take on where the space should be evolving.
Quantified Health and Software Apps by Sara K. Moir. What started as a Tweetstorm about her experience with MyFitnessPal expanded into a great exploration about what it means to be a user (and designer) of health behavior tracking tools.
Show&Tell


How Text Messages Change from Dating to Marriage by Alice Zhao. Only a data scientist would celebrate a six-year anniversary with a thoughtful and thorough analysis of their communication. Alice did a great job here showing what's changed over the years as her and her husband have moved from courtship to marriage.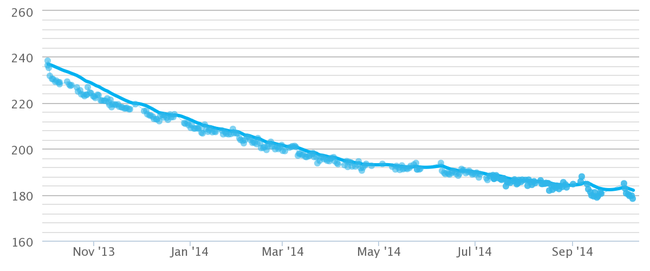 Losing 58.3 Lbs For Science by Zachary Townsend. Zachary just finished up his participation in the One Diet Does Not Fit All: Weight Loss study. Over the last year he's lost nearly 60lbs and learned a lot about himself and his diet.
Using JSL to import BodyMedia Fit Activity monitor data into JMP by Shannon Conners. We featured Shannon's amazing visualization work in our September 20th edition of What We're Reading. She returns here with a thorough how-to on how to explore BodyMedia and MyFitnessPal data in JMP. Even as a non-JMP user I was delighted to find out about the MyFitnessPal Data Downloader Chrome Extension she used to download her meal data.
Visualizations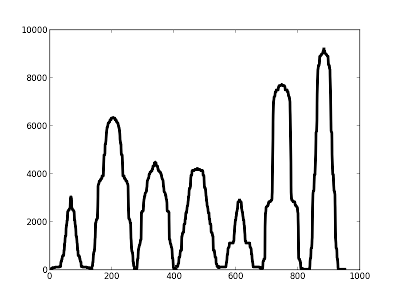 My Up Skyline for the Week by Abe Gong. Abe is a data scientist at Jawbone was taking a look at his own activity data and decided to use the then new Jawbone API to download his data and make some interesting visualizations.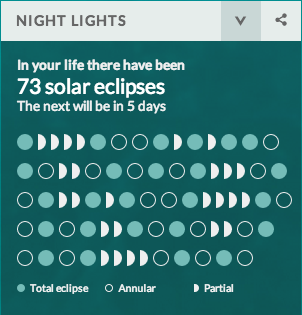 Your Life on Earth by the BBC. Not a typical QS visualization, but unique and interesting to see what's happened in and around the world over the course of your life.
I've been exploring upgrading my data visualization skills by learning D3. If you're in the same boat or want know someone who is then you can point them towards this great intro from the engineers at Square.
From the Forum
Decode Your Chronic Illness
The Ethics of QS
Tasks & Measures
Lifelogging to Prevent Depression
Wearable Body Temperature Tool
Sleep Apnea Treatments
Looking for Android Time Tracking App
Today's Number is 35: The age of the spreadsheet!