December 20, 2014
We've put together an extra-long list for our last What We're Reading of 2014. Enjoy!
Articles
Medical Inhalers To Track Where You Are When You Puff by Alison Bruzek. We've been following Propeller Health (nee Asthmapolis) for quite a while and this piece does a good job outlining their technology and promise.
How Self-Tracking Apps Exclude Women by Rose Eveleth. A great article on the issues brought on by the gendered design of self-tracking tools and applications. Good to see thoughts and experiences from some of our QS community members included in the piece. (If you're a woman interested in women's only QS meetups there are groups in New York, Boston, and San Francisco.)
The Echoes of Hearts Long Silenced by Ron Cowen. Humans have been curious about the sounds our bodies make for centuries. What could we learn from tracking and recording those curious buh-bumps? Sprinkled throughout this great article are examples of the the power of hearing and recoding the human heart.
The Genetic Self by Nathaniel Comfort. A great longer read on the ever expanding role personal genetics can have on our life, especially our health.
This brave new world need only be dystopian if we surrender our agency. If we are aware of the exchanges we are making and how our information is valued—if we are alert to the commodification of personal data—we can remain active players instead of becoming pawns.
More Data, Fewer Questions by Jer Thorp. "Every headline about data from the NYTimes containing a question, from 2004–2014." (Part of an outstanding collection of predictions for the future of journalism in 2015] curated by the Nieman Lab.)
Dada Data and the Internet of Paternalistic Things by Sara M. Watson. A great piece of speculative fiction here that "explores a possible data-driven future."
Tech Giants Move to Protect Wearables by Ashley Gold. With more wearables and QS tools capturing personal health data there is increasing scrutiny on privacy and protection, especially at the federal level.
Make Your Own Activity Tracker by Young-Bae Suh. Want to track your activity, but also love DIY projects? This is the one for you. A great walk through, including sample code, to get you up and running with a wrist-based activity tracker.
Enviro-Trackers Are a New Gadget Trend. What Do We Do With Them? by Margaret Rhodes. What can we do with personal environmental data? Margaret explores this question in the wake of the new devices currently available and being developed to track the world around you.
Vicious Cycle by Patt Virasathienpornkul. A fun student project that imagines a close-loop system of calorie consumption and expenditure.
Show&Tell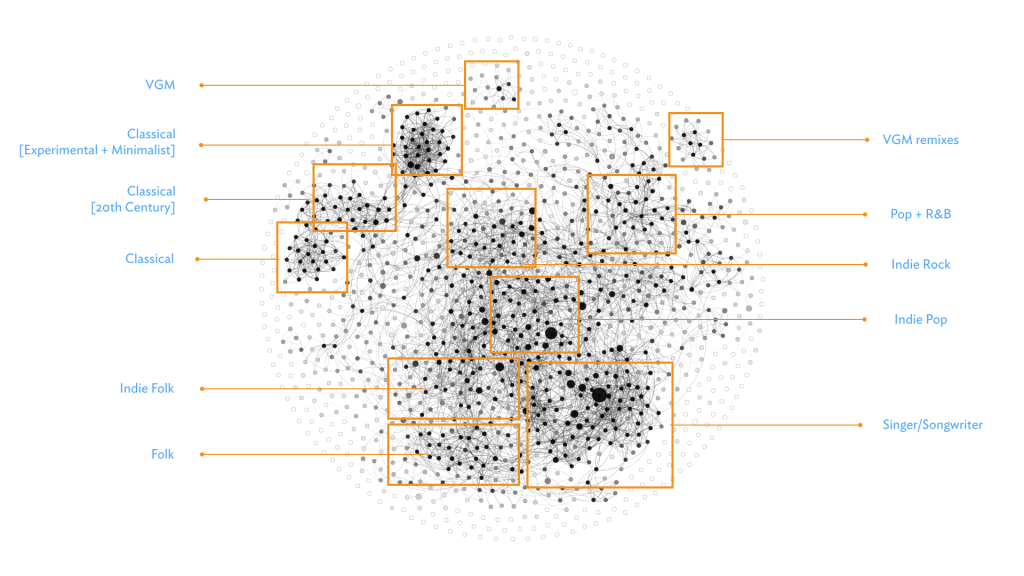 Music Records by Salem Al-Mansoori. A wonderful deep dive into eight years of music listening history. Salem supplements the raw listening data with additional information and creates an amazing set of visualizations to answer questions such as, "Where do the artists I listen to come from?" and "How are my tastes changing over time."
Half a Year with Dash by Colin Sullender. When the Dash OBD tracking device connected with the IFTTT service in mid 2014 Colin began logging each of this car trips. In this post he gets into the data to see what he can learn from his driving data.
Visualizations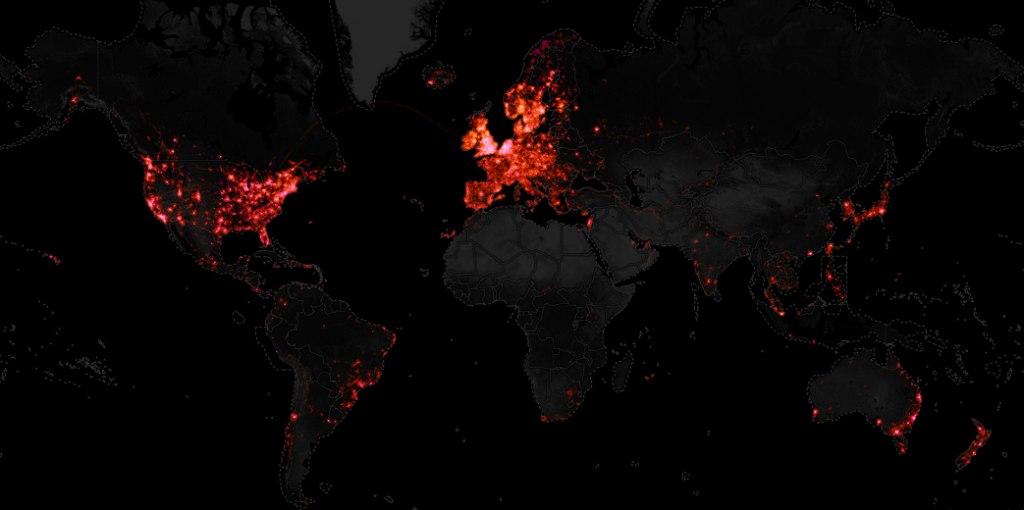 Superpowering Runkeeper's 1.5 Million Walks, Runs, and Bike Rides by Garrett Miller. The folks at Mapbox have done it again by improving on their last map collaborations with Runkeeper. Make sure to poke around in the large map to see where people are running, riding, and walking in your area. Also see this interview/article if you'd like to learn a bit more about the project.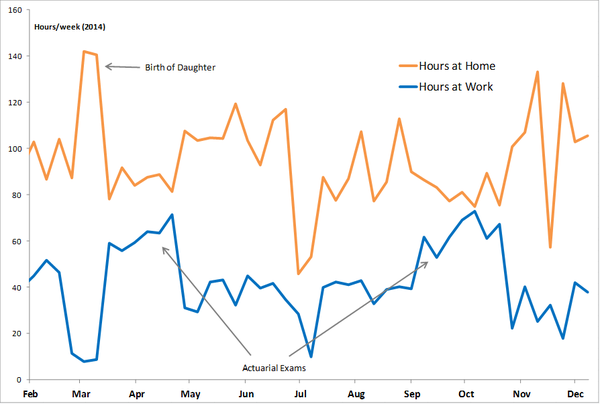 A Year in Moves Data by Patrick Maloney. Patrick graphed his tie spent at time and at work by access his Moves data.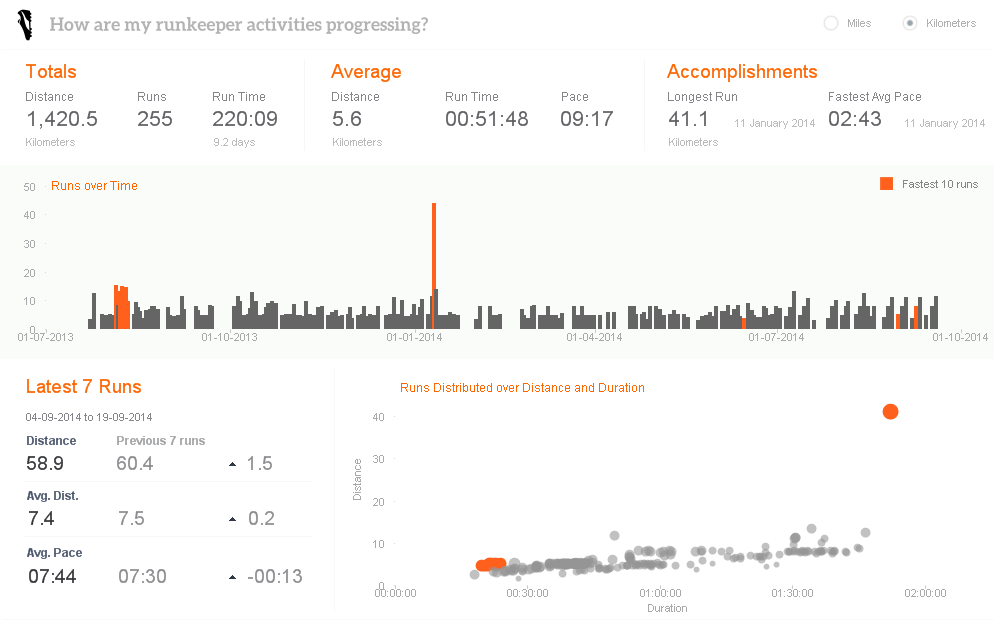 Crowdsourcing a Runkeeper Dashboard by Patrick Tehubijuluw. Patrick built a nice overview data dashboard to explore his Runkeeper data. If you're a QlikView User you can download and play with your own data.
Tell, Don't Show by John Pavlus. Data dashboards are all the rage in our mobile-focused personal data world, but do they do a good job conveying information? John Pavlus argues that "data verbalization" is the next big user experience.
From the Forum
Understanding Goal Setting and Sharing Practices Among Self-Trackers
Wearable Timelapse Camera? (For time management)
New book about Quantified Self, called Trackers
Determine your Fitbit stride length using a GPS watch