February 7, 2015
Another batch of links, examples, and visualizations from our QS community and around the web. Enjoy!
Articles
The phone is a gateway drug to health: what MyFitnessPal knows, and what Under Armour gets by Jane Sarasohn-Kahn. There has been a lot of talk this week about Under Armour's acquisition of the self-tracking app companies Endomondo and MyFitnessPal. Having read through many reactions, I thought this short post by Jane was one of the best.
The Electronic Health Record: Are we the tools of our tools? [PDF] by K. Patrick Ober and William B. Applegate. This article, written for The Pharos, a quarterly journal covering nontechnical medical subjects, is a very interesting peak into how some physicians are thinking about how they practice medicine in the era of the EHR. The authors make the case that the "EHR in the exam room" is not only degrading the patient-doctor relationship, but may be contributing to a growing lack of understanding and a reduction in the holistic view of patient care.
Introducing the #OpenAPS project by Dana Lewis and Scott Leibrand. Dana and Scott, pioneers in the open medical device data and #WeAreNotWaiting movement, have done it again. Building on their experience with testing an using an Artificial Pancreas System (APS) they've decide to release an open reference design for an "overnight closed loop APS system."
We believe that we can make safe and effective APS technology available more quickly, to more people, rather than just waiting for current APS efforts to complete clinical trials and be FDA-approved and commercialized through traditional processes. And in the process, we believe we can engage the untapped potential of dozens or possibly hundreds of patient innovators and independent researchers and also make APS technology available to hundreds or thousands of people willing to participate as subjects in clinical trials.
Ringly's Destiny Revealed by Robin Sloan. Too often, the narrative around the impending device-creep, which is invading every aspect of our lived experience, settles into a "look at  how terrible we're becoming as humans." I really liked how Robin Sloan spun the idea of networked devices into something that becomes a fun enjoyable hacked experience.
How Data Will Help Me Keep My Resolution by Emmy Ganos. Emmy, who is a program associate at the Robert Wood Johnson Foundation, recently attended a few "Data for Health" events and wrote up her thoughts. It was nice to see her expose some ideas around public/communal data and it's impact on health as well as a this gem from our own Gary Wolf:
In San Francisco, I was surprised to hear Gary Wolf, the leader of the Quantified Self movement, passionately challenge the idea that historically disempowered groups are less capable of analyzing and understanding data about themselves. He shared the provocative point that we too often underestimate people's intelligence, and think that we have to interpret data FOR people. Wolf's point is that everyone deserves access to data about themselves, in whatever format it is available.
Quantified Man by Jedd Cole. A nice piece of of short fiction here. To say more would be to spoil it. (Side note: If you run across other QS-themed works of fiction please do send them in. We love reading them.)
Show&Tell
Using tools to analyze my uBiome results by Richard Sprague. Richard is a member of our great QS Seattle meetup group and recently gave a talk (video coming soon!) about analyzing and understanding his uBiome micorbiota data. In this post he walks us through analyzing his data using R. He also has another great post for analyzing the data in Excel if you're so inclined.
Visualizations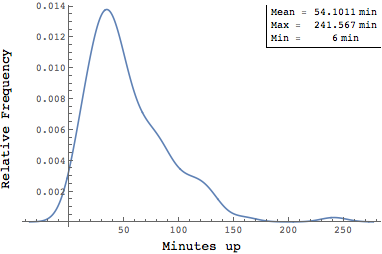 Standing Desk Histogram by Tobi Lehman. Tobi has a standing desk and wanted to track how much he was actually standing. He wrote a simple script to allow him to track the state of his desk and found that he typically stands for less than an hour at a time.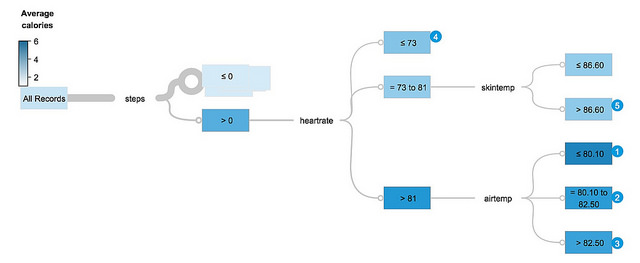 Marketing Analytics Tools for Non-Marketing Uses by Christopher Penn. Don't let the title fool you, this is a great Quantified Self post. Christopher accessed his data from his Basis watch, visualized it, and then fed it into IBM's Watson to see what was actually influencing calorie expenditure.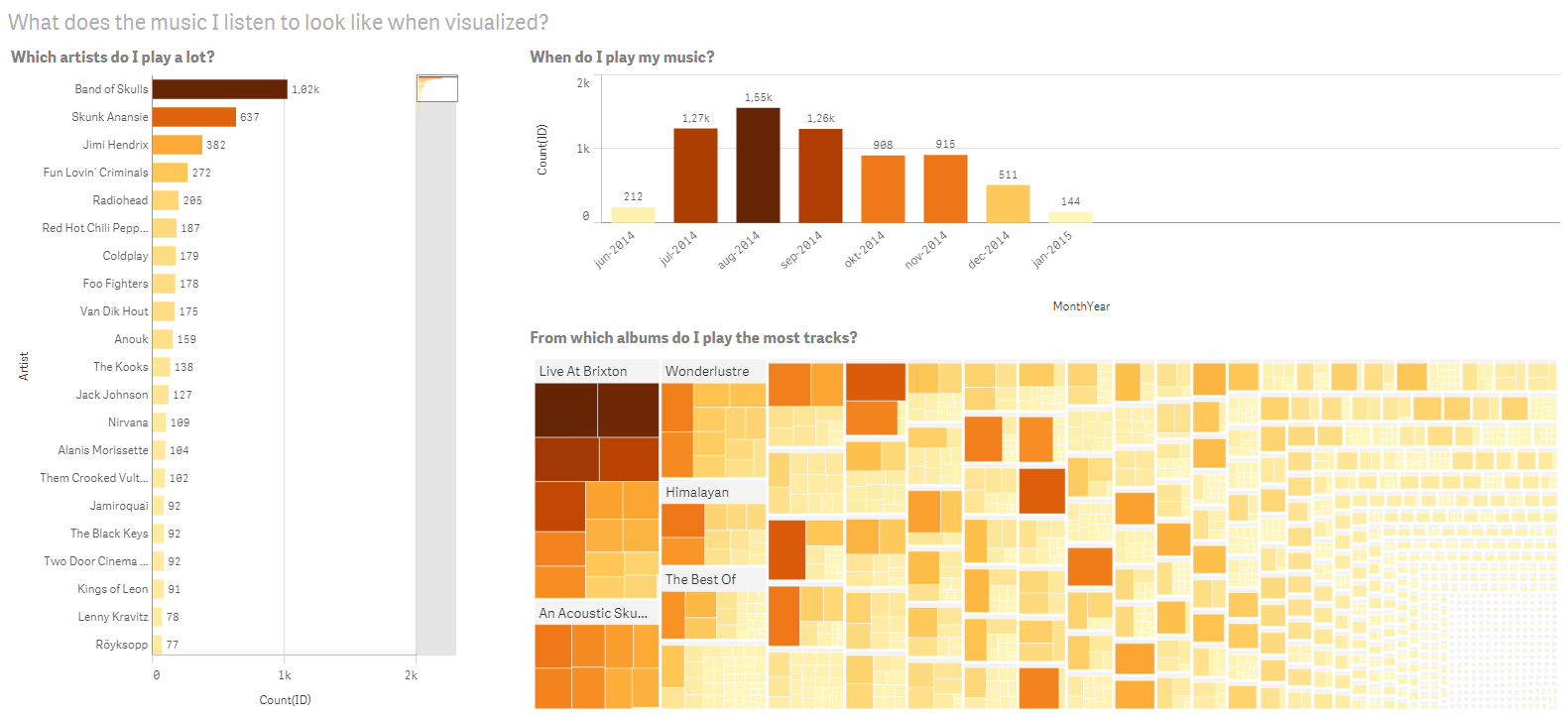 Making Qlik sense of the music that you play by Patrick Tehubijuluw. A nice visualization here of Patrick's music listening history. Make sure to click through to see how you can make this same visualization.
Access Links
Smart Ways to Manage Health Need Smart Regulation
HHS Changes Incentivize Value Driven Care, But What About Device Interoperability?
BYOD – Bring your own Data. Self-Tracking for Medical Practice and Research
Big Data: Seizing Opportunities, Preserving Values (White House Report, PDF)
Patient-Generated Data Fuels Population Health Management
ONC unveils Interoperability Roadmap for public comment
Medical researchers and health care providers must consider moral as well as legal questions on data use, says bioethics body
From the Forum
Basis Peak
QS for Down Syndrome children
Diagnosed sleep apnea, looking for metrics pre/post treatment
HRV app APIs
Separation of cloud vs local storage?