February 28, 2015
We have a great list for you today. Special thanks to all those who are reaching out via Twitter to send us articles, links, and other bits of interestingness. Keep 'em coming!
Articles
Self-Experimentation: Crossing the Borders Between Science, Art, and Philosophy, 1840–1920 by Katrin Solhdju. This brief essay lays out a great foundation for anyone interesting in the history and philosophy of science, with an obvious focus on the self-experiment. This essay is hosted at the Max Plank Institute for the History of Science, at which I highly recommend spending some time clicking around and reading the wonderful essays and articles.
After the Data Confessional: interview with Ellie Harrison by Stephen Fortune. A very interesting and thought-provoking interview with artist Ellie Harrison. For six years self-tracking data was the core component of Ellie's work as an artist. Then she decided to stop and reconsider her tracking practices and what it meant to her and her work.
Data is the New "___" by Sara M. Watson. "What do we talk about when we talk about data?" is the question Sara posses here to frame a wonderful piece on how our use of metaphors influences our view of data.
A brief history of big data everyone should read by Bernard Marr. If we're going to talk about how we talk about data it is probably useful to have some historical context. Great timeline here of data in society.
Baby Lucent: Pitfalls of Applying Quantified Self to Baby Products [PDF] by Kevin Gaunt, Júlia Nacsa, and Marcel Penz. An interesting article here from three Swedish design students that looks at current baby and parenting tracking technology. They also conducted a design process to develop a future tracking concept to better understand parent's reactions to baby tracking. I thought there were a few interesting finding from their interviews.
Hey, Nate: There Is No 'Rich Data' In Women's Sports by Allison McCann. It only seems fitting that a few days before this weekend's MIT Sloan Conference on Sports Analytics Conference, the "it" place to learn about and discuss sports data, that we learn about the amazing dearth of data collected and published about women's sports.
Show&Tell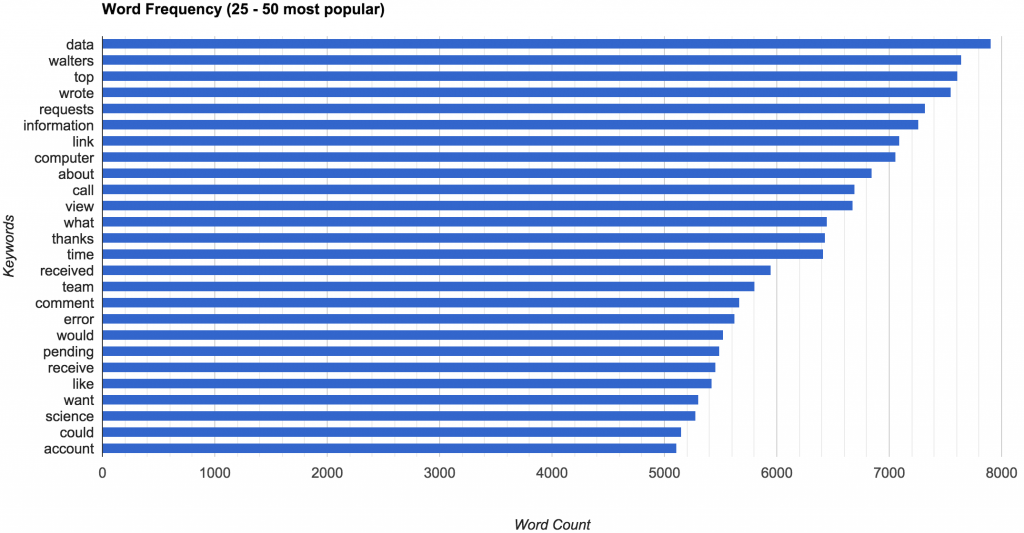 Analyzing Email Data by Austin G. Waters. A great deep dive into the 23,965 emails that Austin has collected in his personal account since 2009. I won't spoil it, but this post just keeps getting better and better as you scroll. Bonus points to Austin for describing his methods and open-sourcing the code he used to conduct this analysis.
The App That Tricked My Family Into Exercising by Adam Weitz. Not a lot of data in this post, but I enjoyed the personal and social changes Adam described through his use the Human activity tracking app.
Visualizations
Smart Art by Natasha Dzurny. Using IFTTT and a few littleBits modules Natasha created a piece of artwork that reflects how often she goes to the gym. Would love to seem more DIY data reflections like this!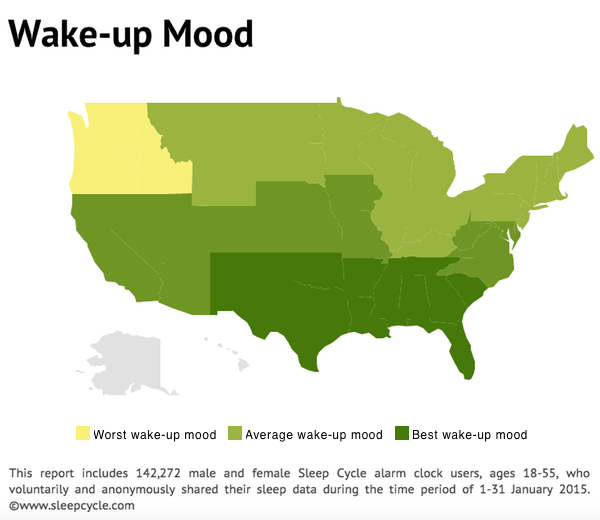 How does weather affect U.S. sleep patterns? by Sleep Cycle. Sleep Cycle analyzed 142,272 sleep reports from their users (recorded in January of 2015) to explore mood upon awakening, stress levels before bed, and sleep quality. Fascinating stuff.
Access Links
HHS Expands Its Approach to Making Research Results Freely Available For the Public
Many Patients Would Like To Hide Some Of Their Medical Histories From Their Doctors
Doctors say data fees are blocking health reform
From the Forum
Best ECG/EKG Tool for Exercise
BodyMedia API – Anyone have an active key/application?
Sleep monitor recommendations for research on sleep in hospitals
Simplified nutrition, alertness, mood tracking