March 28, 2015


Enjoy this week's list!
Articles
Antebellum Data Journalism: Or, How Big Data Busted Abe Lincoln by Scott Klein. A fascinating look back at the history of using data in periodicals. Particular emphasis is give to the story of how Horace Greely, a newspaper editor and congressman, used data journalism techniques commonly employed today to expose issues with congressman travel reimbursement policy in 1848.
Imagining the Future of Health Data by Susannah Fox. Having followed, and participated in, the Data4Health events, all of us here at QS Labs are excited for the release of the full report next week. We'll also be watching the live webcast. Join us!
2014 Motor Trend's Best Driver's Car: How We Test by Kim Reynold. I know what you're thinking, "What is a car review article doing on this list?" Well, it turns out that Motor Trend not only tracked the vehicles in this year's testing, but also the drivers. This short article described they methods they used to track the biological signals and facial characteristics of their test drivers to derive emotion, focus, and other data.
Why you patient partners on your research team by Holly Witteman. A brilliant essay on the experiences of a researcher, who also lives with a chronic disease, regarding including patients as part of the research design process.
"[…] these people have saved our research projects countless trips down wrong paths."
Are We at a Tipping Point for Open Data? by Phill Jones. A fascinating post with a rich amount of information and background on where the research community is in regards to data sharing and data access, and considerations for continuing to move forward.
By The Numbers by Abby Norman. Haunting and special. A must read.
Show&Tell
Narrative Clock By Morris Villarroel. Morris is a great member of our community and the organizer of the Mardid QS Meetup group. In this post he looks back on his nearly 400,000 Narrative Clip photos and breaks down what you can learn from just looking at slices of time across many days.
Quantified Myself – The Beginning By Norbert Berencsy. Norbert takes the reader on a journey of testing and experimenting with different sleep apps. I can't wait for more posts!
Sweet Dreams are Made of These: Wearable Tech and Extra ZZZ… by Dave Champman. Dave is using an UP24 to track his activity and now this sleep. In this short post, he explains his own sleep tracking and the benefit he gets out of seeing his friend's an colleague's data.
Comparing my Fitbit One and iPhone 6 by Eddie Smith. A brilliant and thorough dive into the actual differences in step counts and floor estimation from two devices over daily living and a few specific experiments. My favorite part:
"Rather than get hung up on data accuracy, I think it makes sense to focus on the main goal: move more. I'm absolutely fascinated with the fact that small computers can constantly measure my motion and give me incentive to move more by constantly informing me about my movement patterns."
Visualizations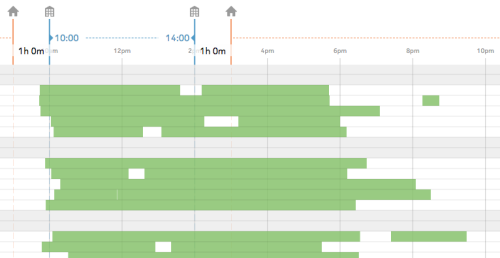 A Year at Work. Gordon Mei visualizes his time spent at work during 2014 using the Moves app. Makes sure to click through for the full visualization.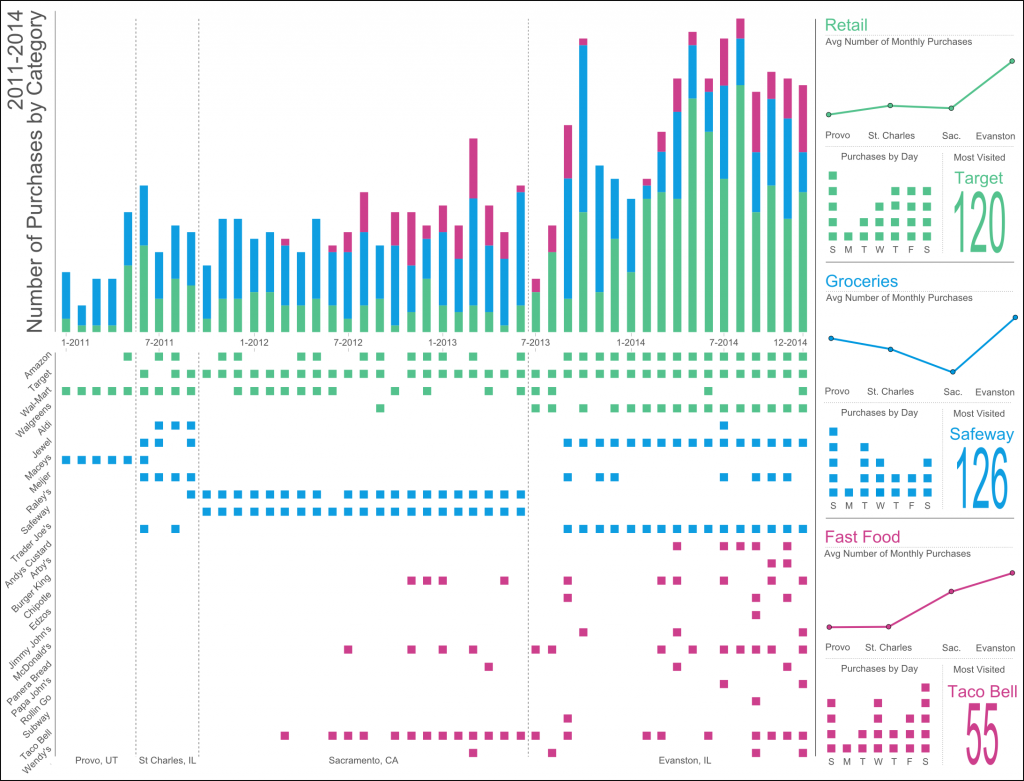 Four Years of Purchases by Matt Yancey. Matt was curious how his purchasing habits changed as he moved around, from the suburbs into cities. Fascinating and easy to understand visualization.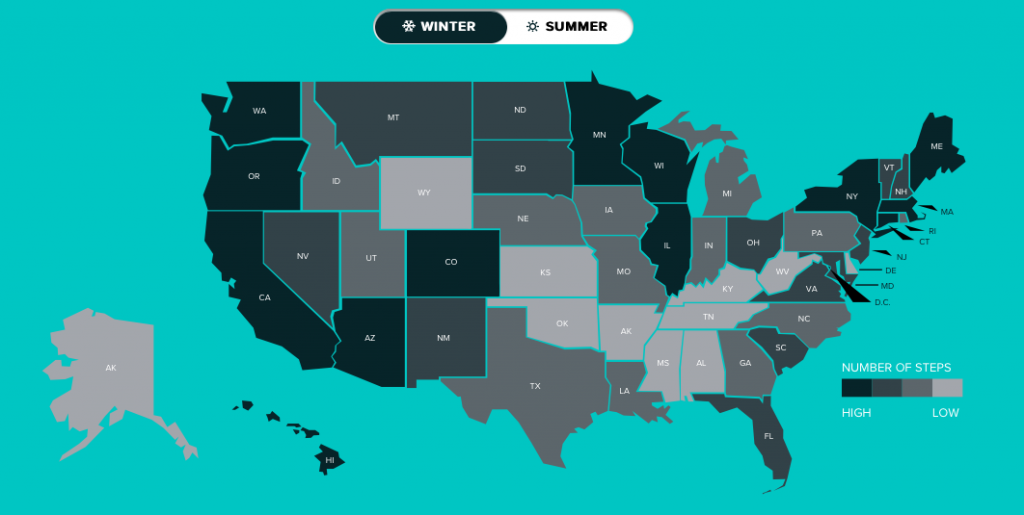 Weathering the Winter by Fitbit. An interesting visualization of the differences within and across states for physical activity during winter months vs summer months.
Access Links
Astronaut twins study raises questions about genetic privacy
Our Data, Our Health
Study Shows People Act To Protect Privacy When Told How Often Phone Apps Share Personal Information
Data accessibility is key to a successful activity tracking system
The Heart of the Matter: I can't access the data generated by my implanted defibrillator. That's absurd.
From the Forum
Heart Rate Monitor for Cardiac Patient
Food allergy/intolerance tests
Want an app or device to track my hormones (esp. estrogen and progesterone)
HRV Expert by Cardiomood data export from phone to excel or some other place