May 23, 2015
So much going on this week! We just announced and opened registration for our QS15 Exposition. If you're in the Bay Area join us on June 20th for an amazing day of demos, talks, and sessions highlighting the very best of the Quantified Self. Readers of What We're Reading get a special discount. Just click here to get $10 off your ticket price.
We also just announced the Future Normal QS15 Challenge. Thanks to our long time friends and QS sponsors InsideTracker, we're inviting you to take part in an exciting challenge to develop new ideas and questions about what we can learn from unlocking the information stored in our blood. Click here to learn more and enter to win two free Ultimate Panels!
Now, on with this week's list!
Articles
How accurate is the Apple Watch's step counter and distance tracking? by Dan Graziano. Great article testing how accurate the new Apple Watch is versus other activity trackers and smart watches. It's a short(ish) controlled experiment, but the initial results seem positive. Key takeaway: if you have an Apple Watch take the time to calibrate it!
Forget the Fitbit: Can Wearables be Designed for the Developing World? by Jessica Leber. Together with Frog and ARM, UNICEF is launching a "Wearables For Good" challenge to generate ideas and designs for new sensors and technologies that can be used in "resource constrained environments." Check out the challenge website here: Wearables For Good.
Is the Wearable Health Movement Sustainable by Tim Bajarin. TL;DR: Yes.
With Great Data Comes Great Responsibility by Paz. Ownership, privacy, and longevity. These are the three topics taken on in this long, but well written article on data. If you're working with or collecting a user's data this is a must read. And if you're sending your data to a service, you might as well read it too.
Show&Tell

Data is Personal by Frances Angulo. A beautiful post by Frances about using a few simple tools to track anxiety, including a few wonderful visualizations. Once again, I'm astounding by the simple power of using a tool like Google Forms to ask oneself the question that matter.
Visualizations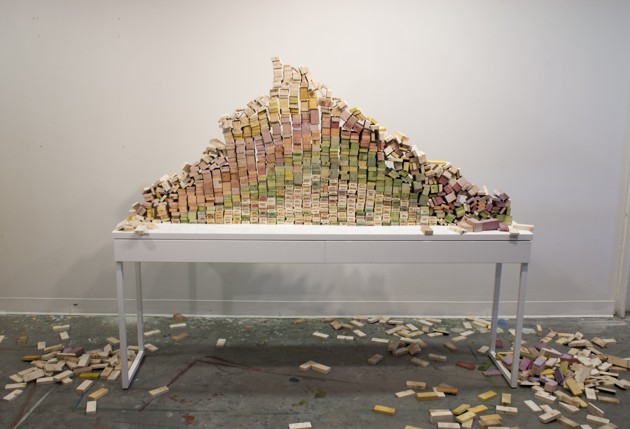 From Paint to Pixels by Jacoba Urist. A nice article on data as art featuring some of our friends such as Laurie Frick, who's work you see above.

This is what it is like to be charged by a hippopotamus. by Jer Thorp. Turns out it's super scary and makes your heart rate jump through the roof. Make sure to click through to see and hear the visualization. It's well worth it.
Access Links
Are Wearables Violating HIPAA?
What Happens to Your Data When You Monitor Your Personal Fitness
Apple, Google, Other Tech Firms Fight U.S. on Smartphone Data Access
From the Forum
A survey on QS in organizations
Sharing self-generated data with healthcare professional?
Central repository for QS data
BioMetrIcs: Beta test a new Android app
This Week on QuantifiedSelf.com
Quantifying Family Caregiving
Tracking Fight or Flight at the Office
Forget Normal: A QS + InsideTracker Challenge