July 11, 2015
Hello again! Here we are with another list of articles, links, and visualizations for you. Enjoy!
QS15 Reactions
We've started to see a few great blog posts and articles describing the experience of attending the QS15 Conference and Expo. For the next few weeks we'll be highlight a few here.
My Data, Your Data, Our Data by Murray Grigo-McMahon
Notes from the 2015 Quantified Self Conference by Arpit Mathur
Quantified Self 2015 by Phoebe V. Moore
QS15: Measurement with Meaning by Ben Bending
Articles
The Future of Food Data: Toward Transparency, Personalized Design, & Re-Thinking the Concept of a 'Food Label' by Sam Slover. We highlighted Sam's work on visualizing his food last year and it nice to see that work is continuing. I'm interested to see where this goes.
An Evening with the Consciousness Hackers by Nellie Bowles. Brain tracking and augmentation is definitely on the rise. Great to see the Consciousness Hacking group get some attention. (We were honored to have Mikey Siegel and Ariel Garten participate at the QS15 Conference and Expo. Look for their talk soon!)
Make people the controllers of their data to help the NHS go digital by Andrew Chitty.
There's a solution to this too. Make it the default assumption that the patient is the owner or controller of all data relating to them. They can then share this data with whichever parts of the health service they wish.

This might sound slightly outlandish but think about it: we're increasingly going to see digitized records become the norm, with many of them self-generated by citizens as part of their self-care – which we want to encourage, not only because it engages people with their own care but because it short circuits the technical barriers around information sharing.
What if We Really Set Data Free by Elizabeth Nelson. I had the pleasure of speaking at length with Elizabeth about Quantified Self, data, and data access. Make sure to also check out this great interview with Josh Berson.
The Crying Baby and the Sympathetic Fitbit by Jocelyn Wiener. A great article by a mother with a new baby who learned how sleep tracking can be useful.
My sleep didn't get any better just because Fitbit started quantifying how crappy it was. But I felt validated, if only by someone with a rechargeable battery for a heart. While I received plenty of clucking sympathy from family and friends, my new device gave me something arguably better: evidence.
Show&Tell


Is drunk sleep less restful than sober sleep? How much so? Why or why not? by Justin Lawler. Not sure where I saw this, probably in the #quantifiedself stream on Twitter, but this Quora answer is pretty fantastic. Justin takes the time to explain what he found when he ran a test on how alcohol affected his sleep using his Basis watch.
Quantified home birth by Morris Villarroel. A beautiful post by our friend Morris, who describes his tracking experience during the day his son was born.
Visualizations
Food Chain Project by Itamar Gilboa.
The Israeli-Dutch artist kept a diary of everything he ate and drank for the duration of a year. He meticulously kept track of his daily consumption. Some three years later, the results can be seen in a sculpture installation, the Food Chain Project. His installation, a traveling pop-up supermarket consisting of more than 8,000 white plaster sculptural groceries, physically represents Gilboa's yearly consumption.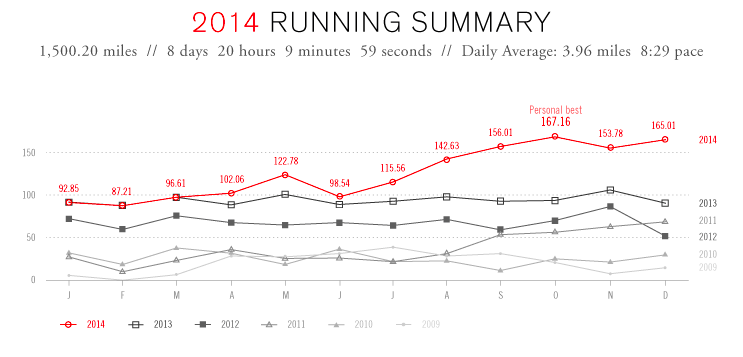 From a Net to a Harpoon: 2014 Annual Review by Michael Anthony. I cannot stress how beautiful this annual review is. Maybe it's the focus on running that gets to me, but the whole this is worth looking through. You can even go back in time and view Michael's reports from 2011, 2012, and 2013.
From the Forum
Quantifying Caloric Intake
How to Quantify Myself
This week on QuantifiedSelf.com
2015 QS Visualization Gallery: Part 1
2015 QS Europe Conference: Scholarship Application Now Open