August 15, 2015
Enjoy this week's list!
Articles
When 'Special Measures' Become Ordinary by David Beer. What does it mean to have measurement, personal and institutional, as part of our everyday experience? A nice article that begins to expose what it means to operate in this new world.
Building smarter wearables for healthcare, Part 1: Examining how healthcare can benefit from wearables and cognitive computing by Robi Sen. In this article, Robi Sen describes what IBM sees as the "analytics gap" in current wearable technology. Specifically, that devices and the data they present don't fully understand and utilize contextual information, and therefore are not providing meaningful information. What's the answer? IBM's Watson, of course.
Doping scandals, open data, and the emergence of the quantified athlete by Glyn Moody. A short and interesting piece that wonders if opening up athlete performance data might be a useful part of combating doping and illegal performance enhancement in professional athletics.
N of 1 Trials and Personal Health Data with Dr. Nicholas Schork. The Health Data Exploration Network hosted their inaugural webinar this past Friday. The focus was on N of 1 trials: why they're important, how to conduct them, and the role of Quantified Self and self-tracking data.
Lifelog: Pilot Tasks of NTCIR–12. Our good friend and lifelogging researcher, Cathal Gurrin, is spearheading an innovative project to improve search and information access to lifelogging and self-tracking data. If you're a researcher or information systems specialist you may want to take a look at data and see if you can help push the field forward!
Show&Tell


Sleepwalking. Rather than point to one post over another we're going to highlight this entire blog by one anonymous scientist who's exploring his sleepwalking. The whole blog is chock full of insights into measurements, devices, and experiments to see what may or may not affect their sleepwalking. Start here to get a good overview.
How I Hacked Amazon's $5 WiFi Button to track Baby Data by Ted Benson. Have $5 to spend on an Amazon Dash button? With a little bit of programming you can turn it into your own DIY internet-connected tracker!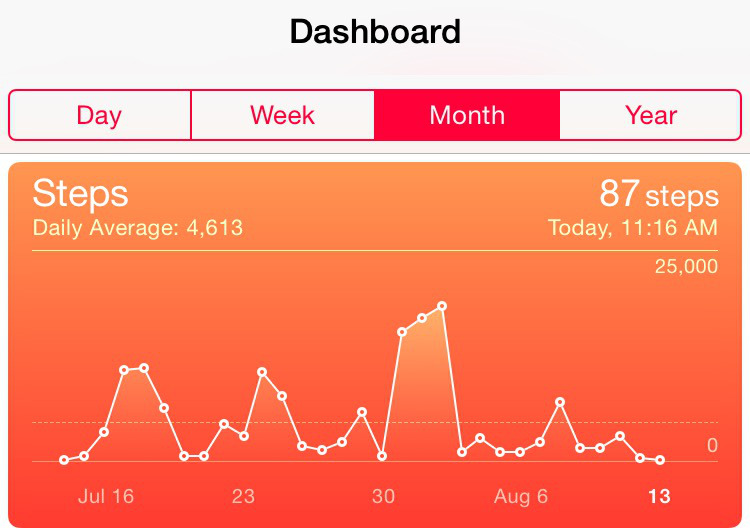 10,000 Steps at a Music Festival by Tim Hanrahan. A fun post about tracking physical activity at the Lollapalooza festival.
Visualizations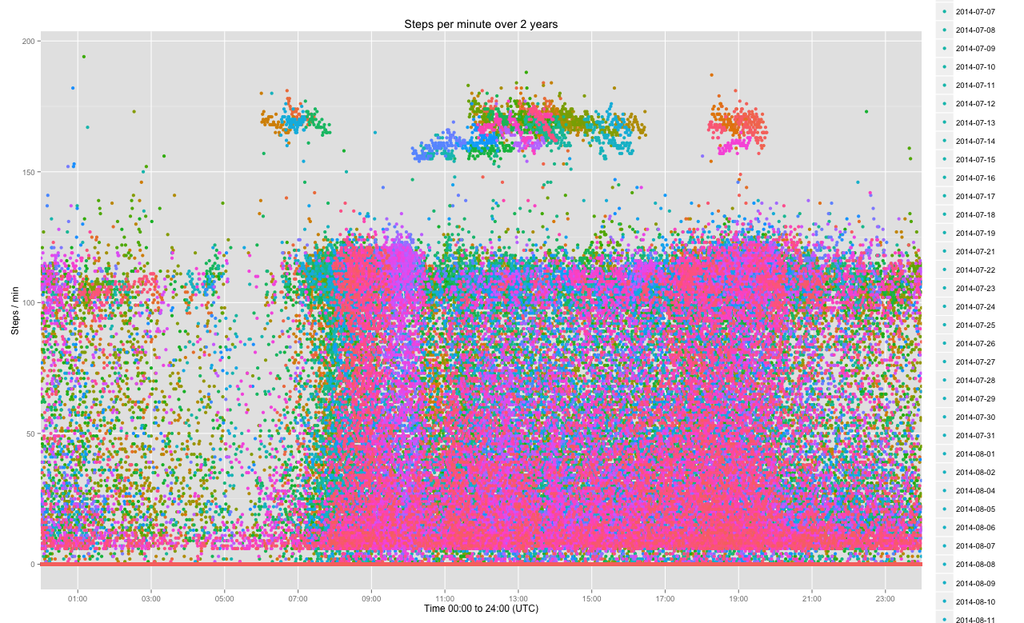 Basis Data Analysis by Victor Jolissaint. I saw this Victor tweet this visualization and was immediately drawn in. Turns out he's been exploring ways to analyze and understand his Basis watch data using R. Check out the link for his code and take a crack at analyzing your own data!

Tableau: Helping Me See and Understand Myselfb y Craig Bloodworth. Craig pulled all his self-tracking data into Tableau and designed his own personal dashboard to better understand what was going on with his activity, personal finances, and other lifestyle information.
From the Forum
How to acquire info about sent e-mails using gmail?
How to quantify myself
We want to track you!