March 1, 2014
An extra long list for you to this time. Enjoy!
Articles & Posts
Beyond the Data Portal by Jed Sundwall. The open data refrain has been taken up by non-profits, local, and national governments around the world. Have we questioned what it really means to be good data stewards? A very nice post here that opens up a discussion about the role of data librarians to augment simple access with human-powered information wayfinding.
Could Behavioral Medicine Lead the Web Data Revolution? by John W. Ayers, Benjamin M. Althouse, and Mark Dredz. If you can look past the slightly antiquated use of the term "web data" here you'll see a good critique of the current methods in behavioral health science and the role of personal data in medical and behavioral research.
Little data: Tracking your life through numbers by Dominic Smith. A nice short piece here on the art behind self-tracking,
Critics might ask why we should care about the aggregated, daily routine of a man most of us will never never meet. But fans would argue that these reports aren't merely novelties for the coffee table—they represent data as art, a single year of human life parsed into graphs and charts.
Fitness Trackers Could Boost Kids' Health, But Face Challenges, Experts Say by Tia Ghose. Activity trackers are all the rage these days, but can they be used to track and understand children's physical activity?
Questioning the Quantified Self as it Marches Towards Mainstream by Matt Stempeck. A very thorough recap of a talk by Natasha Dow Shull given at the MIT Media Lab. It covers the history of self-tracking and the current trend towards algorithmic selfhood. Great read.
When quantified-self apps leave you with more questions than answers by Brendan O'Connor. The author takes at self-tracking and personal data through the lens of the newly released Reporter app. Reading this piece left me wondering, are questions the prominent artifact of a self-tracking practice?
Dan Hon's Newsletter By Dan Hon. I know you get enough email already, but this is an exceptional project by Dan to express his ideas in the form of a daily newsletter. Covering the vast arena of techno-culture, it's a great addition to my inbox. See his thoughts on Quantified Self in issue #15.
Why It's OK to Let Apps Make You a Better Person by Evan Selinger. The ideas and considerations in this piece are as relevant today as they were when this article was published nearly two years ago.
Quantify Everything: A Dream of a Feminist Data Future by Amelia Abreu. A very interesting perspective on self-tracking and the Quantified Self movement by our friends at Model View Culture.
The Ethicist's and the Lawyer's New Clothes by I. Glenn Cohen . An interesting lecture on the ethical issues surrounding the use and misuse of "smart clothing."
Data Sharing Essay Competition by DNA Digest. A writing competition to explore themes around the positives and negatives of data sharing in the health research community.
Show&Tells (a selection of first person stories on self-tracking and personal data)
Quantify Yourself by Amo Utrankar. What happens when a medical student starts self-tracking so he can understand his future patients?
Between Week 1 and Week 4, my "compliance" fell from 96% to 63%. It takes a committed, conscious effort to record every meal, every vital sign, every exercise, every minute of the day. I hold a new-found respect for the diabetic patient who has to monitor his blood sugar, manage his appointments, and mind his meals; it's a process that's both distracting and exhausting.
I tracked every penny I spent for one year. Here's what I learnt. by Todd Green. Ten lessons learned from a year-long meticulous tracking project.
I lost 1,000 hours of sleep in 1 year: My story as entrepreneur & new Dad by Nick De Mey. A father recounts his process of learning about his sleep, or lack thereof. (Editor's note: Nick is a founding member of AddApp, a Friend of QS).
Visualizations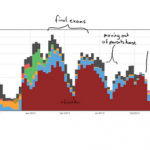 My Facebook Messaging History by Person and Time. A great visualization and conversation with open source code so you can make your own.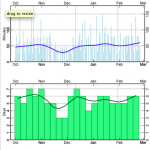 My Recent Exercise Log – Plotted. Another reddit user shares his exercise data from MyFitnessPal.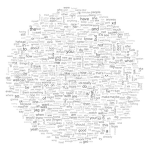 What can you learn from almost 3 years of Skype chat logs?. A simple, but nice word cloud visualization of chat logs.
In total there were 280114 words sent. Words that refer to oneself (such as: i, me, ich, my, mich, min, meiner, meine, meins, jag, mig, mir) were used 14995 times whereas words that refer to other people (like above list for others) were only used 6669 times! People in my Skype conversations like to talk about themselves… (which is mostly me. THERE, I did it again )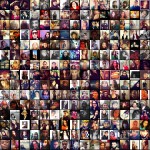 Selfiecity. An interesting exploration of new media visualization techniques and social media information processing by an outstanding group of researchers. Take a tour of the website then read Lev Monivich's post about this new area of research and data visualization.
From the Forum
OPI Truesense for Sleep Tracking
Tracking Pain/Discomfort – Thoughts?