September 12, 2015
On with the links!
Articles
Get your electronic health record: It's your right by Lisa Zamosky. Make sure to know your rights when you ask for your medical records. A good overview of the regulations and some good links to have in your arsenal.
Open Data Rockstar: Jennifer Pahlka by Maria Renninger. We're big fans of what Code for America is doing to make open data useful for people in communities around the United States. Great to hear a bit from Executive Director.
Awash in Data, Thirsting for Truth by Margaret Sullivan. The public editor for the New York Times goes deep on how data can be used, and sometimes abused, in the new era of data-driven journalism.
Meet the Hackers Who Are Decrypting Your Brainwaves by Sean Captain. I'm fascinated by the growing presence of brain tracking devices out there. Great to see some grassroots groups looking to make sense of all that data.
When Discrimination Is Baked Into Algorithms by Lauren Kirchner. The code that governs our machines are written by people. Fallible people who have their own opinions and biases. Who make mistakes. But what kind of legal protections are needed when discrimination is the result of the computers that run that code?
Why your bathroom scales are lying to you and how to find your true weight by Martin Robbins. Brilliant and fascinating post by Martin Robbins, who weighed himself every hour over a three-day period.
Soylent: What Happened When I Went 30 Days Without Food by Josh Helton. Say what you will about the techno-utopian food replacement product, but this is a great write-up on a month-long experiment to live off the stuff even while running nearly 70 miles per week. (Don't forget to check out the data!)
Visualizations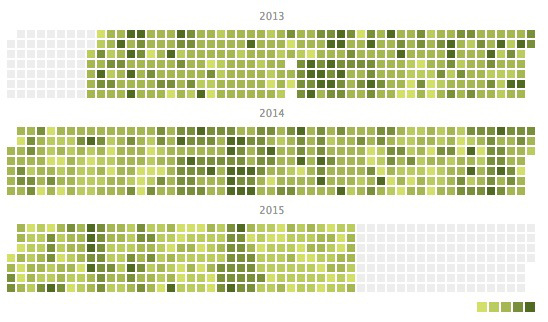 A Heatmap of Over 900 Days of Writing Data from My Google Docs Writing Tracker by Jamie Todd Rubin. Jamie shows us the data from the last two and a half years of tracking his writing.
From the Forum
Can You Quantify Inner Peace?
Psych Graduate Student Interested in QS Research
This Week on QuantifiedSelf.com
Announcing the 2015 Quantified Self Europe Conference Program
Track HRV, Make a Dashboard, and Have Fun with Fitbit at QSEU15