Tallyzoo Happiness Test & Developer Interview
March 11, 2010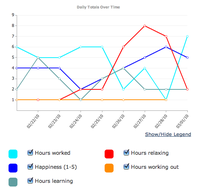 Choosing a new platform for self-tracking is a big decision. Tracking takes a lot of time and using tools that are not meant for tracking and or have weak development or ineffective development can be a major time suck. That is why I am excited about finding Tallyzoo. More truthfully, Tallyzoo found me on Twitter. Love that Twitter.
Tally Zoo effectively supports self-tracking with an easily programmable web and mobile interface so you can always access and manipulate your data. Users can share results via embedding and email. TallyZoo's iPhone app has one touch buttons to make adding entries quick and easy.
The test
Tallyzoo seemed promising enough to conduct a test with so I decided to see if I could how a mix of variables in my life affect my happiness. I chose to track time spent working out, working, learning, relaxing and happiness rated 1-5 with 5 being the happiest.
The setup
Setup is super easy. Download the app from the store and press the "+" sign to add a new button which represents an activity. You can quickly color code, set increments and
set the time span (under badge) in which you want the totals tracked. Once the button is set you can just touch it to add an increment. If you want to remove an increment just shake the phone and confirm. Not much to think about. Especially great for when you are on the move or lightheaded from working out and don't want to hunt down little numbers and enter buttons on the iPhone.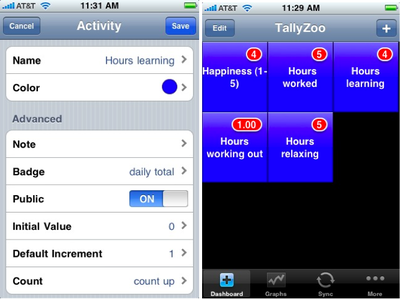 Next, I set up my online account and synced my phone with the account via the network and visited
TallyZoo.com
.
The
online dashboard is great for deciding how you want to see your data,
color-coding and comparing. The interface has a pretty low barrier to
use, but I recommend spending a few minutes pushing all the buttons and
you will be in business. I was able to easily compare the different
variables by turning them on and off and reviewing related notes.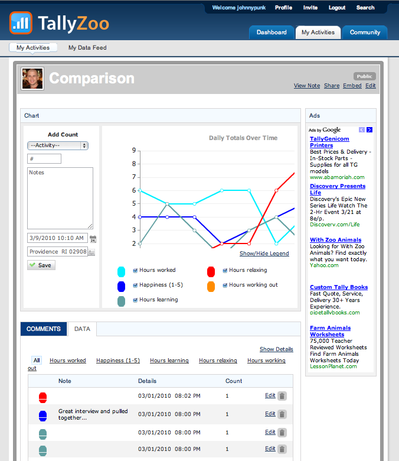 The Results
My
test lasted two weeks and showed me a few things about what matters to
my happiness. I learned that hours spent learning are important but
that the quality of the learning and how successful I felt about my
learning process was very important. Hours relaxing are also important
but not as crucial as I suspected. Ultimately, hours worked had the
most to do with happiness. It became clear that when work is work and
not learning I am less happy. Something I had thought was the case but
am now able to say with even more certainty. Guess I am a learnaholic
not a workaholic like some might think.
One of
the biggest lessons I learned was that adding notes to entries is a
really great way to deepen my understanding of what I am feeling in
relationship to my quantitative entries. It qualifies the entries and
built awareness within me. Adding notes is an easy thing to do with
Tallyzoo as you can hold the activity button and a field for notes and
date adjustment will pop up.
What could be better?
Some
finesse is needed on the dashboard interaction but it is not too big of
a barrier and am sure they are already working through some of the
issues. The fundamentals are there. The two biggest missing elements
are a time format for capturing minutes on the iPhone app (available on
the web) and a reminder function to help you remember when to enter
your observations. These are very minor and resolvable issues. One
other improvement would also be a scroll wheel button state so you can
enter total amounts rather than increments.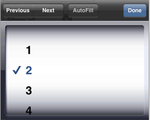 Support
Crucial
to the whole thing is that the founder and developer Ari Oberman is
awesome at providing quick feedback and support. He is also extremely
interested in supporting the QS community, which means we can help
shape our tools.
Data Portability?
Not
yet but it is on the way. Tallyzoo is working hard on its API. Perhaps
it will help support a more widely distributed tracking infrastructure.
Hmmm…
The Verdict
This is
an application worth investing your time and data in because it is good
and only going to get better. Would look forward to hearing about your
tests and results.
Interested in trying it out?
Ari provided me with a few free downloads of the full Tallyzoo app. Ping me if you want one.
@chrisfinlay
Interview with Tallyzoo founder Ari Oberman
Was there a particular moment when you realized you should develop TallyZoo? 
It
has been something that I wanted to do for a long time.  The ah-ha
moment came on the golf course.  The story is too embarassing to tell
here, but it was on the golf course.
What makes TallyZoo different from other tracking tools?
Two main ones are Easy of Use and Embeddable Charts
First,
Ease of use.  Self-tracking, unfortunately, requires data entry.  Our
iPhone app allows users to create 1-click buttons.  There are a number
of options you can choose such as counting up or down, the amount it
increments, those types of things.  After a couple minutes of setup all
it takes to track somethings is 1 tap.  You can configure the app just
as you would apps on the iphone with the wiggle-drag functionality.
TallyZoo is the fastest and easiest way to capture data on the iphone.
Embeddable
Charts – you can embed our charts on any most websites that allows
javascript.  Put these two together and TallyZoo is a slick sharing
tool. Embed your graph somewhere and all it takes is tap and sync on
the phone to update that chart.
How are you
developing an understanding of user needs considering the complexities
of tracking an individuals activities and experiences?
Fortunately,
our users are quite vocal and forthcoming with suggestion.  Many of our
new features are a result of user feedback.  With each release we try
and weigh the importance and breadth of appeal of the suggestions, and
how they jive with our roadmap.  We adjust accordingly.  In terms of
the diversity of what people are tracking we have kept our data model
simple, yet flexible.  Upcoming enhancements to our model will only
increase the flexibility of our platform.
What is the most exciting part of TallyZoo for you?
Creating
something that people really love to use and that helps them better
their lives.  I know that sounds like a cheeseball response, but its
true.  Some of our users are tracking behaviors and personal trends
that are very important in their lives.  Being a part of that is very
rewarding.
What is the most surprising thing someone has used TallyZoo to track? The strangest?
There
have been a number of them.  But some of my favorites are the bird
watchers.  It turns out that our app, because it is so quick to make a
count, is nearly perfect for bird watching.  Who knew, right?  We also
have a bagpipe player, and someone who tracks the number of Tarot card
reading they do.
What are you tracking?
Most
terrifying is the amount of coffee I drink.  It is one of those obvious
things, that isn't so obvious until you have a chart in front of you.
You know, 2-3 cups per day, every day, adds up.  I track a lot of
things and like most people, much of what I track is private.  But the
useful metric I track is Time Since Last Workout. I run, spin, bike and
do a bunch of outdoor activities.  On TallyZoo I have combined them and
display it as "time since last activity."  This chart, more than
anything, motivates me to get up and exercise.
Any new features we should look forward to?
Better use of geotagging and maps.
Most
exciting is our API which is also in development.  We are in discussion
with a number of developers, who want to give their users the ability
to count into TallyZoo.  We are going to be opening it up for private
beta in a month or so.  App developers benefit because their app is
exposed to our user-base.  Our users get the benefit of choosing from a
wide variety of data capture tools.  We are taking submissions for
developers for our API beta test and we can be reached
here
.