March 24, 2008
I'm fascinated by the BodyBugg. Not convinced, but fascinated. This is the most complete self-monitoring system I've yet seen. With an accelerometer, a skin-temperature sensor, a sensor to measure the electrical conductivity of the skin (known as GSR, for Galvanic Skin Response), and a sensor to measure "heat flux" (the rate of heat transfer from the skin), the BodyBugg truly aspires to track a complex behavior – physical exercise – not in terms of outward factors, such as miles run or laps swum, but in terms of inward factors: how much energy has your body used?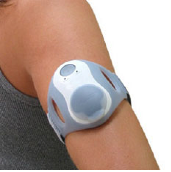 This is a hard task, and it's inspiring that somebody has come so far in figuring it out. The goal is round-the-clock self-surveillance:
We recommend wearing the armband as much as possible during waking hours. the more you wear your bodybugg™, the more accurate and effective you will be at maintaining your calorie deficit goal. During low activity level periods of time (such as sleeping), the program will estimate your calorie burn at rest, based on your body parameters, so it is not 100% necessary to wear to sleep.
There is some science available for those who want to calculate energy expenditure through measurements like heat flux. Still, the assumption behind the current version of the BodyBugg is not that users want to experiment on themselves, or participate in scientific research. Instead, they want the Body Bugg to help them lose weight. The problem is that a device that involves such total commitment to rational self-analysis seems ill-suited to such a straightforward goal. If the goal is simply to lose weight, you don't need to measure yourself 24 hours a day, seven days a week. You simply need to eat a little less and exercise a little more than usual. You can track these variables with any calendar program and a scale.
Something like the Body Bugg could clearly do more interesting work. It could show energy expenditure through time, and allow analysis of the relationship between work, sleep, or mood, on the one hand, and patterns of energy use, on the other. It could be used by two or more people, and allow us to test theories of how we influence each other. It could do a lot of fun things. Right now, the Body Bugg is just the technical part of a program of weight loss coaching. But it, or something like it, has a higher destiny.
For people interested in BodyBugg as it is currently intended to be used, there's a good conversation about various issues here. It has apparently been promoted on the TV show, The Biggest Loser, which I've never seen.