"The most fascinating thing in the world is a mirror…"
May 26, 2009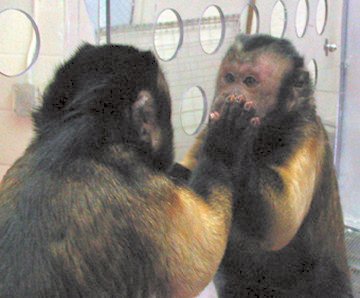 What do we see in the mirror of our data?
A couple of recent stories bring this question to mind. The first comes from Adam Bryant's profile in the New York Times of Jim Collins, author of business advice books that have sold millions of copies. Collins is tremendously successful; a few hours of his time is worth tens of thousands of dollars. One of his tools of success, according to the Times, is an amazing regime of self tracking.
JIM COLLINS calls his third-floor offices in the heart of this
mountain-ringed city a "management lab." But little distinguishes his
workspace from most others, save for a few things.
There is,
for example, the small sign outside the door: "ChimpWorks." In case
anybody doesn't get the point, a large Curious George doll sits in a
leather chair, delivering the we-ask-a-lot-of-questions-here punch
line. And in a corner of the white board at the end of his long
conference room, Mr. Collins keeps this short list:

Creative 53%

Teaching 28%

Other 19%

That,
he explains, is a running tally of how he's spending his time, and
whether he's sticking to a big goal he set for himself years ago: to
spend 50 percent of his workdays on creative pursuits like research and
writing books, 30 percent on teaching-related activities, and 20
percent on all the other things he has to do.

These aren't
ballpark guesstimates. Mr. Collins, who is 51, keeps a stopwatch with
three separate timers in his pocket at all times, stopping and starting
them as he switches activities. Then he regularly logs the times into a
spreadsheet.
…
Oh, he sleeps with vigor, too. He figures that he needs to get 70 to
75 hours of sleep every 10 days, and once went to a sleep lab to learn
more about his own patterns. Now — surprise, surprise — he logs his
time spent on a pillow, naps included, and monitors a rolling average.

"If
I start falling below that," he says, pointing to the short list on his
whiteboard, "I can still teach and do 'other,' but I can't create."
Self-tracking appears here as a means of perfect self-control, and feats of extreme self-control are ways to cultivate and display power. James Dao discussed this recently in a short essay [requires registration], also in the New York Times, about the American general newly in charge of the war in Afghanistan. Lt. General Stanley A. McChristal has not yet revealed any of his self-tracking strategies, but his advance publicity includes information about his extremely disciplined lifestyle, his constant athletic training, and the fact that he eats only one meal a day "to avoid sluggishness."
Theatrical displays of personal precision are one version of self-tracking, but there are others. In the summer 2009 issue of strategy+business, the tech analyst Esther Dyson says that there are two big phenomena defining the internet right now. The first is social media, the second is the quantification of personal life. This is interesting because self-quantification is still outside the mainstream, but within the tech/entrepreneurial circles Dyson inhabits, it is clearly a powerful force.
Five years ago you'd read about diabetics who had to take their blood
sugar readings or about these weirdos who put on pedometers when they
walked. Now, that kind of measurement is everywhere. Web sites that
seem at first glance like entertainment or service media are really
devoted to managing and interpreting customers' data about themselves.
Mint and Wesabe track your banking data and financial transactions.
Skydeck organizes cell-phone records; you can see whom you call most
frequently or whom you used to call but haven't called recently. You
can compare your phone call patterns against other people's. 23andMe
does the same thing for genomes. The most fascinating thing in the
world is a mirror.
I think it is interesting to post this quote from Dyson next to the extract from the profile of Collins and the anecdote about General McChristal, because when most people look in the "mirror" of their data they will not see the perfect image of an asectic warrior or a polished and wealthy business consultant. They will see some order and some chaos. Some intriguing clues that may hold answers to questions they have, or some curious patterns they can make use of for self-expression or social connection. Most interesting will be the things that appear in the data that we did not anticipate. Maybe we will learn something new!
Spending a lot of time looking in the mirror is unhealthy for anybody past the age of adolescence. "The most fascinating thing in the world is a mirror." Isn't that statement kind of immature? And yet as far as personal data is concerned, I sympathize. The interesting thing about these unanalyzed numbers is the hint they give us that we don't completely know who we are. Suddenly realizing that you don't really know yourself; this is the pain of adolescence, and a great spur to growth.