The Quantified Tennis Serve
July 7, 2009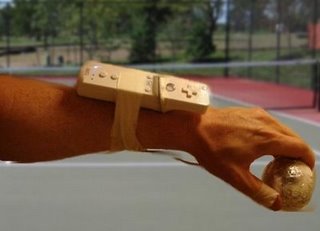 Mans Shapshak has been watching a lot of tennis lately and it inspired him to get out on the court again after not playing much since college. He found his serve had deteriorated, especially his toss. So he searched the internet for tips and found advice like this:
"A high, confident toss made 1 to 2 ft. inside the baseline allows
the server to uncoil both upward and forward into the court, making
contact at 1.5 times body height" (see Popular Mechanics on the Andy Roddick´s serve.)
But when he is out on the court, it isn't so easy to make these calculations.
So I hit on a brilliant solution. If I could physically measure my toss
exactly I could see how much acceleration I am using in my arm and then
I could just practice with computer feedback.
True, a person's arm does not transmit computer-readable data automatically. On the other hand, the Wiimote has accelerometers. And Mans has a tennis ball wrapped in aluminum.
The result: Tennis Practice For Nerds – On Court with a Wiimote.