Tim Ngwena: My Music Listening Habits
October 23, 2014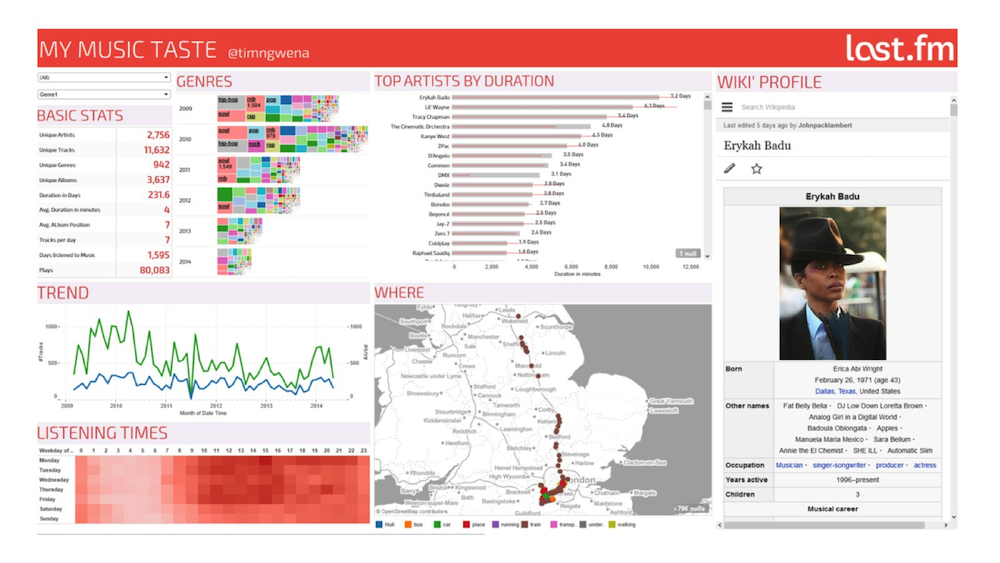 In 2009 Tim Ngwena switched on Last.fm and he's been running in across all his devices ever since. Earlier this year he decided to take a deep dive into his listening data to see what he could learn.
I realized that I was listening to the same old thing and I began to think about changing what I was listening to. But how can I change? Where can I start? I also wanted to learn something about my music, what I was listening to and who was behind the sounds. I decided to focus on music because it was doable.
In this talk, presented at the London QS meetup group, Tim explains how he was able to make sense of almost five years of data and learn more about himself and his listening habits.
What Did Tim Do?
Tim explored his music data along side additional information such as location data from Moves to learn about his musical tastes, listening habits, and explore new visualization and data analysis techniques.
How Did He Do It?
Tim exported his data, used the Last.fm API and some data cleaning and organizational tools to create a simplified and extensive database of his music listening history and associated data. He then visualized that data using Tableau.
What Did He Learn?
Tim learned a lot about himself and what the music he listens to says about him. He describes a few of the most interesting below,
Basically 80% of my listening comes form 10% of the artists that I have in my library.

I've listened to Erykah Badu for over a week (7.2 days). It led me to ask what is she saying to me?

Monday is my jam time. I'm listening from the morning into the evening.

I listen to music mostly when I'm walking.
Tim also learned a lot through the process of designing and creating his data visualization. The visualization, which you can explore here, made him think about being able to see the big picture when he has so much linked data.
I think context is important and you need to see all that information in one place and the tools I'm using allows me to do this.
Tools
Last.FM
Moves
Alteryx
Tableau
His slides are also available for you to explore. Tim has also written up an excellent blog post describing his process.