December 17, 2009
David Pogue's column in the New York Times today reviews two fitness self-tracking tools, the Fitbit and the DirectLIfe.  Both are small monitors you carry that measure your physical activity — sort of like a digital pedometer. As he explains:
The coolest Fitbit bit is the way it sends your collected activity data to its little U.S.B. charging stand. If you leave that stand connected to your computer, with the Fitbit software running, then just passing within 15 feet is enough to trigger a wireless transfer to the Web. Then, at Fitbit.com you can view graphs of your exertions, right down to the minute. (The spikes represented by my weekly tennis games were especially impressive.)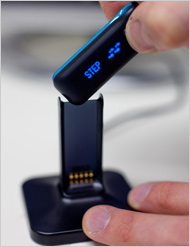 I would summarize his evaluation after his trial this way: FitBit is beautifully designed but your ability to interact and interpret the data is limited. The DirectLife is overdesigned but has better and more useful data interface.  He concludes:
Both of these gadgets do the primary job: making you aware of how much you move. You really want your Fitbit flower to grow; you really want to light up more DirectLife dots (and please your coach). As a result, you really do wind up finding your own little ways to eke out a little more exercise. What's so likeable about these new gizmos is that they're so tiny and simple and cheap, it's almost no effort to use them.