Toolmaker Talk: Gil Blander (InsideTracker)
November 16, 2011
This is the third post in the "Toolmaker Talks" series. The QS blog features many stories by those conducting personal QS projects that are about: what did they do? how did they do it? and what have they learned?  In Toolmaker Talks we hear from those closely observing all this QS activity and developing appropriate tools: what needs have they observed? what tools have they developed in response? and what have they learned from users' experiences?

The two primary sources of data for most self-trackers are self-observations and  consumer-oriented sensor gadgets. Data from laboratory tests is generally limited to whatever you get from your doctor. Segterra, a new Boston startup, has launched a new service InsideTracker that makes personalized blood analysis much more accessible.
Founder Gil Blander explains what led to its creation and the impact it has had.
Q: How do you describe InsideTracker? What is it?
Blander: Segterra's InsideTracker is a new web-based service that  automatically-generates a set of nutrition and lifestyle recommendations based on a panel of blood biomarkers and the person's goals, circumstances and preferences.
I am sure QS'ers appreciate the adage that you can't manage what you don't measure and unfortunately most of us don't have any real data about what is happening inside our body, so it is difficult to know if our efforts to be healthy are really moving us it the right direction.  That is the problem that InsideTracker solves.  Quite literally, InsideTracker gives you a window into your unique biochemistry so that you can make better informed decisions to manage and optimize your health and performance.  Depending on your personal goals it can help you to run faster or farther, have more energy, be more productive and in general feel healthier.
InsideTracker includes the following key components:
Measurement of a number of key blood biomarkers through a simple blood test, and analysis using InsideTracker's proprietary algorithms
Individualized nutrition and lifestyle recommendations based on your diagnostic analysis and a rules-based expert system that matches the individual's input data with a knowledge base of facts about the relationships between the biomarkers and the desired health and wellness outcomes, such as body weight, physical performance, and subjective criteria of wellbeing.
Ongoing testing lets you assess progress.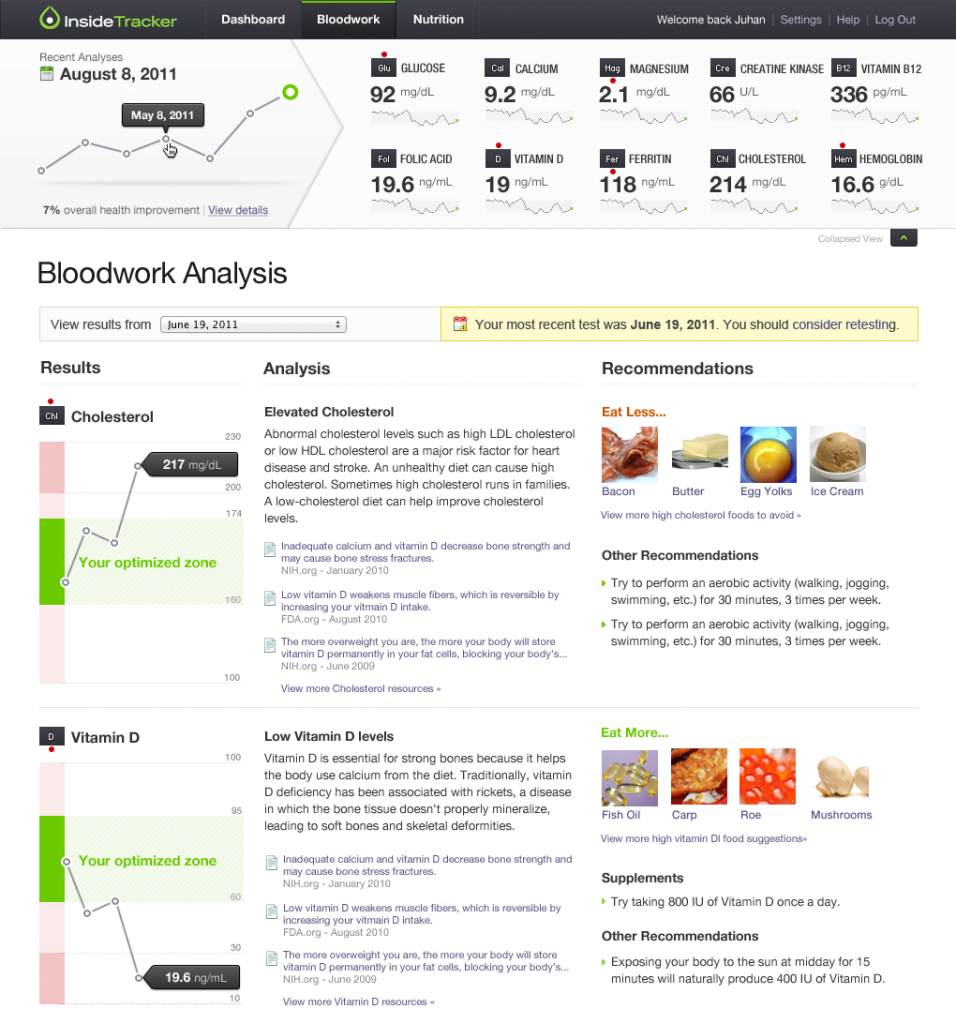 Q: What's the backstory? What led to this service?
Blander: The creation of InsideTracker is a culmination of my fascination with the aging process, and a passion to preserve health and vitality throughout our lives.  When I was 12 I had a close family member die and it triggered in me a desire to know everything I could about why people age and become sick.  I did my postdoctoral work at MIT in Dr. Leonard Guarente's Laboratory for the Science of Aging and came to appreciate the strong connection between aging and overall health.
While at MIT, I caught the entrepreneur bug, but I didn't quite have a clear product idea. Then I met David Lester. David's career path has taken him from academia to government, to industry, giving him a rich perspective on all matters of health.  David was interested in using systems approaches to create segments of populations based on outcomes. Could we segment the field of health information according to specific populations, even individuals, to improve quality of life?
'Systems thinking' is the process of understanding how segments influence one another within a whole. It is taking individual and dynamic characteristics (like biomarkers) and looking at them in terms of how they act as part of a larger environment (like the human body). The combination of using systems thinking plus affordable diagnostic results from a blood sample to create uniquely personal recommendations was something that no other company was offering so we jumped in and launched Segterra to provide that kind of service – and that is how InsideTracker was born.
Q: What impact has it had? What have you heard from users?
Blander: While InsideTracker is still in its infancy, early adopters and participants from our pilot have been enthusiastic about their experiences. One user had been concerned about vitamin D deficiency, but using InsideTracker discovered he was fine. Another had been confident about his nutrition but learned he was in fact low on iron. A third has been able to make some minor changes to his diet to move several biomarkers in the right direction.
Q: What makes it different, sets it apart?
Blander: Several aspects of InsideTracker are unique:
We have made using blood results more affordable so that you can use it as a metric to measure health on a recurring basis.
We have made it easy for the consumer to access and interpret this information and to see time series so they can understand positive or negative trends and take the appropriate action.
We have defined personalized 'optimal' ranges for each of the blood markers we include in the service.  A general Lab report that your doctor sees has universal 'norms' for each value.  A 18 year old man and an 80 year old woman both have the same range of 'normal'.  We've been able to bring a lot of science to bear to define optimal ranges for individuals based on demographic and lifestyle differences.  It is the difference between knowing what is pass/fail and knowing what gets you an 'A' on health.
We've made our recommendations engine very flexible so that personal preferences and needs can be easily managed.  If you are low in iron and don't like spinach, we can make recommendations that reflect these preferences and still help you meet your goals.
It is also worth noting that InsideTracker is not affiliated with any supplement vendor and that micronutrient recommendations are based solely on the biomarker results.
Q: What are you doing next? How do you see InsideTracker evolving?
Blander: There are a number of directions that we can take InsideTracker in terms of additional functionality, but we want to do a good job listening to customers and let them drive our priorities.  We will continue to enhance our algorithms to incorporate the latest scientific literature and are looking at integration with other tracking tools, adding additional blood markers to our panels, community-building functionality to our website, and a variety of other features, but the exact sequence of things will be driven by customer feedback.
Q: Anything else you'd like to say?
Blander: We love what you are doing with Quantified Self and we are looking forward to becoming more involved with the community. We think this audience can be power users of the service and give us valuable input on how to make InsideTracker better.  As a reflection of our commitment, we want to offer a special discount code to QS members that will allow them to save $50 when they purchase the service.
Product: InsideTracker
Website: www.insidetracker.com
Platform: Web
Price: $169 or $249 — QS Member Special Discount Code: QSNATM11156
(If you are a "toolmaker" and want to participate in this series, contact Rajiv Mehta at rajivzume@gmail.com)