Toolmaker Talk: Sampo Karjalainen (Moves)
June 27, 2013
Today we are happy to bring you another interview in our Toolmaker Talk series. We had the great pleasure of speaking with Sampo Karjalainen, the designer and founder of Moves. Over fifty percent of U.S. adults have a smartphone. That's a lot of people walking around with a multi-sensored computer in their pockets. Moves is another example of how developers and designers are focusing on the smartphone as a Quantified Self tracking and experience tool. This is an exciting space, and one we intend to keep a close eyes on moving forward.
Watch our conversation or listen to the audio (iTunes podcast link coming soon!) then read below to learn more about Sampo and the Moves app.
How do you describe Moves? What is it?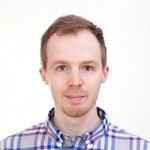 Moves is an effortless activity tracker. It's a bit like Fitbit or Jawbone UP, but in your smartphone. There's no need to buy, charge and carry one more device. In addition to steps and active minutes, the app also automatically recognizes activity type: walking, running, cycling or driving. It also shows routes and places and builds 'a storyline' of your day. It helps you remember your days and see which parts of your day contribute to your physical activity. It's a simple, beautiful app that hasn't existed before.
What's the backstory? What led to it?
We started Moves to motivate us to move more. Aapo Kyrola was doing his Ph.D at Carnegie Mellon University, working hard, gaining weight and lacking the motivation to exercise. We began discussing how to motivate people like Aapo to move more. The first prototype used game motivations: we had badges, leaderboards and virtual pet to motivate people. The problem was that they still had to remember to start and stop tracking. We quickly learnt that people didn't remember to use it for everyday walks. That made us think that maybe we could make it work continuously in the background. It took plenty of R&D to find a way to minimize battery use while still collect enough data to recognize activity types and places correctly.
What impact has it had? What have you heard from users?
We're seeing that when you make activity visible, people start to think about it. And when they think about it, they start to do small changes in their lives. They may park their car a bit further or consider biking instead of car. They may choose to walk just to get some steps and take a break from everyday hurries. It also helps people see how long it takes to travel between places and how much they actually use time in different places.
What makes it different, sets it apart?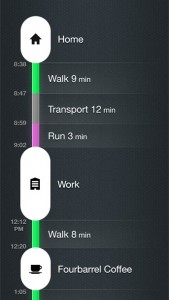 Other phone-based trackers are good for tracking one run or one biking event. Moves is made to track all-day activity. Compared to activity gadgets, Moves recognizes activities by type, recognizes places and shows routes. It's collecting a new type of a dataset that hasn't been available before. And best of all, we now have a public API, so you can use your data as you like!
What are you doing next? How do you see Moves evolving?
Currently we're busy with the Android version of Moves and adding some features to the iPhone version. Over time we see that Moves will become a tool to understand not only your physical activity, but also your use of time, travels – your life in general.
Anything else you'd like to say?
Moves is collecting your location in time and space. It's a great 'backbone' for connecting all kinds of other data. We're excited to see what type of visualizations and mashups people create!
Product: Moves
Website: moves-app.com
Price: Free
This is the 20th post in the "Toolmaker Talks" series. The QS blog features intrepid self-quantifiers and their stories: what did they do? how did they do it? and what have they learned?  In Toolmaker Talks we hear from QS enablers, those observing this QS activity and developing self-quantifying tools: what needs have they observed? what tools have they developed in response? and what have they learned from users' experiences? If you are a toolmaker and want to participate in this series please contact Ernesto Ramirez.